RSS Chief Mohan Bhagwat released revised version of 'Kruti Roopa Sangha Darshan' at Mangalore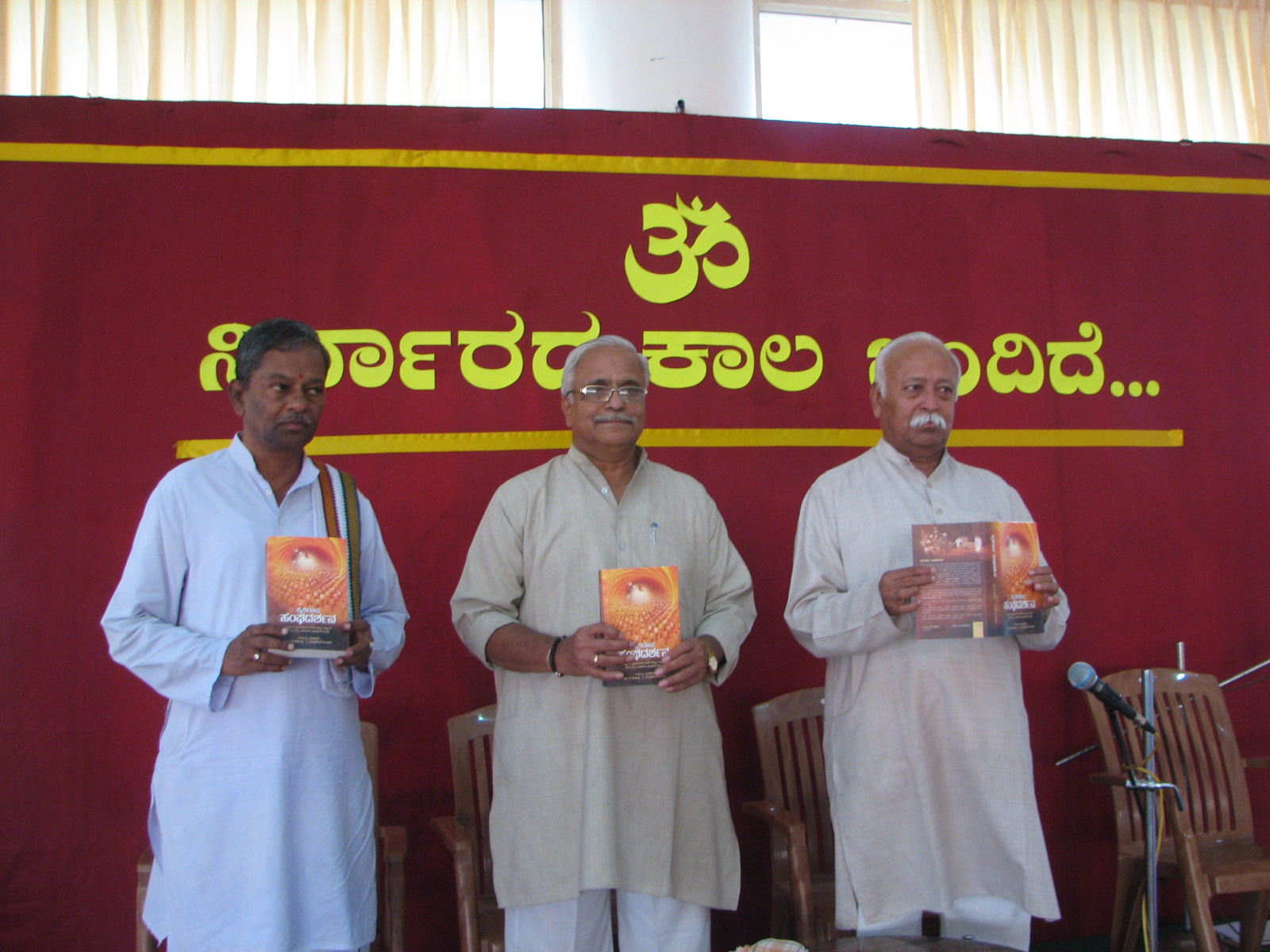 Mangalore February 04, 2013:
 RSS Sarasanghachalak Mohan Bhagwat released the revised version of
'Kruti Roopa Sangha Darshan
', (a Kannada book on formation, principles, growth and reach of RSS) at Sanghanikethan Mangalore on February 4th, Monday morning. RSS Sarakaryavah Suresh Bhaiyyaji Joshi, Karnataka Pranth Sanghachalak M Venkataram were present on the occasion. The Book release was held ahead of beginning of RSS State level office bearers meet, Pranth Baitak held at Sanghanikethan, Mangalore. The first edition of 'Kruti Roopa Sangh Darshan' was released in 1989 during the Birth Centenary celebrations of RSS founder Dr Keshava Baliram Hedgewar. The book was penned by (late) HV Sheshadri and Senior RSS Pracharak Chandrashekar Bhandari.
ಆರೆಸ್ಸೆಸ್ ನ ಹುಟ್ಟು ಸಿದ್ಧಾಂತ, ವಿವಿಧ ಮುಖ, ಬೆಳವಣಿಗೆ, ಸಾಧನೆಗಳ ಸಮೀಕ್ಷೆ ಹೊಂದಿರುವ 'ಕೃತಿ ರೂಪ ಸಂಘ ದರ್ಶನ' ಕೃತಿಯ ನೂತನ ಆವೃತ್ತಿಯನ್ನು ಸರಸಂಘಚಾಲಕ ಮೋಹನ್ ಭಾಗವತ್ ಮಂಗಳೂರಿನ ಸಂಘನಿಕೇತನದಲ್ಲಿ ಫೆಬ್ರವರಿ ೦೪,ಸೋಮವಾರ ನಡೆದ ಪ್ರಾಂತ ಬೈಠಕ್ ಸಂದರ್ಭದಲ್ಲಿ ಬಿಡುಗಡೆಗೊಳಿಸಿದರು. ಸರಕಾರ್ಯವಾಹ ಸುರೇಶ ಭೈಯ್ಯಾಜಿ ಜೋಷಿ, ಪ್ರಾಂತ ಸಂಘಚಾಲಕ ಮ ವೆಂಕಟರಾಮ್ ಜತೆಗಿದ್ದರು.