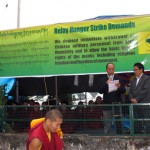 Rashtriya Swayamsevak Sangh(RSS)  extended its support to the Tibetan Youth Congress (TYC) and asked Chinese leadership to normalise situation in tense areas of Tibet.
Tibetan Youth Congress has launched  a  relay Hunger Strike beginning on April 17th 2011 near the Main Temple in Dharmasala demanding immediate withdrawal of Chinese military personnel from Kirti Monastery and to allow basic rights including religious freedom and freedom of movement for the monks. All the regional chapters of (TYC) are being instructed to organize a uniform campaign world over.
Yesterday, RSS's National Executive Council members Indrish Kumar and KN Govindacharya visited  Mecleodganj. "We appeal the Chinese leadership to normalise the situation in the tense areas of Tibet," said Indresh Kumar.
The leaders were welcomed by the president of Tibetan youth congress Tsewang Rigzin and deputy speaker of Tibetan Parliament in Exile Ms Dolma Gayri near Tsuglagkhang.