RSS Sarasanghachalak Mohan Bhagwat's advice accepted by Advani, Crisis over, says Rajnath Sing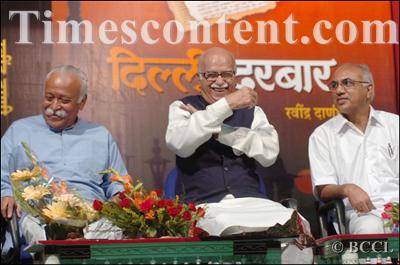 New Delhi June 11, 2013: Amidst high media enthusiasim, BJP President Rajnath Sing declared that the crisis emerged within BJP after its patriarch LK Advani's resignation is over.
'LK Advani accepts BJP parliamentary board decision by rejecting his resignation', said Rajnath Singh.
'"Today afternoon, RSS sarsanghchalak (chief) Shri Mohan Bhagwat spoke to Shri Advani and asked him to respect BJP Parliamentary Board decision and continue to guide the party in national interest. Shri Advani has decided to accept Shri Bhagwat's advice," informed Rajnath Sing in the Press Meet, along with senior BJP leaders Sushma Swaraj, Nitin Gadkari, Arun Jaitley and others.

Earlier, Yesterday, 85-year-old LKAdvani, a founder member of the BJP and the tallest leader after Atal Bihari Vajpayee, resigned from all main forums of the party — parliamentary board, national executive and election committee, a day after Modi was anointed BJP's campaign chief for the 2014 Lok Sabha polls.
In a strongly-worded resignation letter to party president Rajnath Singh, who announced the appointment of Modi as chairman of the election campaign committee on Sunday in the BJP national executive, Advani rued that the BJP was no longer the "same idealistic party" created by Shyama Prasad Mookerjee, Deendayal Upadhyaya, Nanaji Deshmukh and Vajpayee.
However, Advani was absent for the press meet, Rajnath Singh himself clarified that 'I was the one who requested Advani to stay away from this press conference.'