JAIPUR: Stating that the RSS will not be a party to the Ayodhya case if it comes to the Supreme Court, its general secretary Suresh Joshi on Monday said that any reconciliation process in the case should take place within a legal framework. He was responding to questions on All India Muslim Personal Law Board's statement of challenging the Allahabad High Court verdict in the apex court. He said his organisation would not become a party to the case unless the apex court issues notice to it.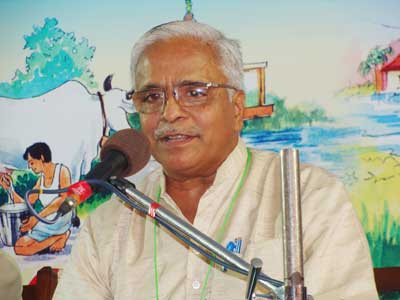 "Sangh was never directly involved in the legal battle," said Joshi. He, however, said the RSS had always guided the concerned parties and will continue to guide the bodies if the matter goes to the Supreme Court. Joshi was in the city to address the state-level conference of Adarsh Vidya Mandir schools in the state.
"If the concerned parties feel that injustice had been meted out to them, they can initiate reconciliation," he said. When asked whether RSS will approach the concerned parties to initiate reconciliation process, he said: "The concerned parties are independent of approaching each other but they should remember that reconciliation should take place within a legal framework."
Refuting the statements of Muslim bodies and some intellectuals who claimed that verdict is motivated by faith, he said that those who disagreed with the judgment can go to Supreme Court. "Expressing discontent on a legal judgment publicly is unlikely in the democratic set up," said Joshi.
On this issue, RSS will take its final stand in its working committee meeting scheduled for the last week of October in Jalgoan. "There are many issues lined up for discussion but the main issue which will be discussed in the meeting is the verdict," added Joshi.
Following the line of RSS chief Mohan Bhagwat, who immediately after the judgment said, The verdict shouldn't be seen in the light of victory and defeat," he said RSS is a reponsible organisation and it is neither encouraging anybody to challenge the verdict in the Supreme Court nor provoking anybody to do the same.
He, however, said that the verdict has paved the way for temple. RSS is closely monitoring the daily developments on the issue. He claimed that the ASI report had turned the tables in favour of Hindus. "The report had proved the existence of Lord Ram temple years before the mosque was built," Joshi said.
People, who are unhappy with the verdict, are questioning the evidence collected by the ASI. "How can they raise questions on the ASI report. The excavations took place by court order and members of both the parties were there during the whole operation," Joshi added. ( http://timesofindia.indiatimes.com/city/jaipur/Ayodhya-reconciliation-should-be-within-legal-framework-RSS/articleshow/6686485.cms)