Rashtriya Swayamsevak Sangh (RSS) is all set to organise a nation-wide campaign door-to-door SAMPARK ABHIYAN on 3 major issues of national enthusiasm.
First, it will create awareness among the public about the attempts to tarnish its image to link with terror.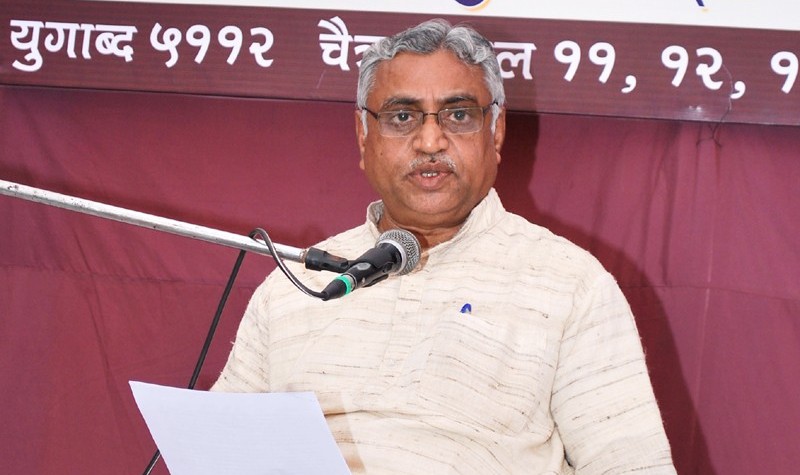 Dr Manmohan Vaidya, Akhil Bharatiya Prachar Pramukh, The chief of publicity of RSS, , told  that three issues would be taken up during the two-month campaign. "The Ramjanmabhoomi and Kashmir issues will also be highlighted during the campaign," he said."The RSS will prepare literature on these three issues and its members will undertake a door-to-door campaign, distributing the literature and educating people on these issues," he said, adding that meetings will also be organised",  Dr Vaidya Told to Vishwa Samvad Kendra, Karnataka.
The campaign will be organised in each state at different durations. Already in Gujarat the campaign is going. In other states including Karnataka it will be launched in February first week.
MEDIA REPORTS:
RSS campaign in city from Jan 26(TOI)
VADODARA: The Rashtriya Swayamsevak Sangh (RSS), which has launched a nation-wide Sampark Abhiyan,  will start door-to-door campaign in the city on January 26.  "We have launched this campaign across the nation to clear suspicion created in the minds of people about the organisation's links with terror," Gujarat's joint RSS chief Jayanti Bhadesia told media persons here on Sunday. He said that during the campaign, volunteers of the Sangh will not only conduct door-to-door meetings in different areas of the city but will also hold group meetings in different parts.
"The campaign is launched with three point agenda. There is lot of misunderstanding being created to tarnish RSS's image with a long-term plan to ban our organisation. Through this nation-wide campaign we want to clear false messages spread on the alleged findings about some of the Sangh workers' link to terror," said Bhadesia, hitting out at investigating agencies.
"At the same time, our campaign is also aimed at spreading awareness on the present situation in Jammu and Kashmir and on setting up a huge temple at Ram Janmbhoomi in Ayodhya," he said. (TOI)
RSS plans to hold door-to-door campaign (DNA)

Pune: With Congress alleging it of spreading 'saffron terror' and recent revelations of alleged involvement of someof its members in terror acts having put it in a spot, the Rastriya Swayam Sewak Sangh (RSS) is launching a 15-day door-to-door campaign for generating people's awareness about its activities.
In Gujarat, the campaign will begin from Saturday and will end on February 6.
Dr Amrut Kadiwala, head of the RSS Gujarat unit, on Friday said, "It is a nationwide conspiracy to malignthe image of RSS by accusing it of being involved in the (Malegaon and Mecca Masjid) blast cases. We will make people aware of the conspiracy against Hindus, Ram Janmabhoomi and Kashmir issues, apart from nationalist activities of the RSS."
"After the Samjhauta blast, the Congress leadership had made a statement alleging involvement of Safdar Naghori, and now they are trying to implicate RSS in the case," Kadiwala told media persons here.
Commenting on the Sohrabuddin case and arrest of former Gujarat home minister Amit Shah, he said, "The Congress is misusing CBI and Gujarat is an example of this."
"Thousands of RSS workers will hold group meetings with people apart from special group meetings with opinion makers like doctors, lawyers and professors," said Kadiwala. He clarified that the right wing organisation does not approve of any form of extremism. "RSS does not endorse any kind of terrorism. We shall also not tolerate 'aggressive' people in the organisation," Kadiwala asserted.
Congress is Mis-using CBI to frame RSS in blast cases (TOI)
AHMEDABAD: RSS  has launched door-to-door campaigns against "the efforts made by the Congress and investigating agencies to link it to various blast cases in the country, including the Samjhauta Express blast."
Sources in the RSS said in the around 2,000 workers have joined the campaign. Amrut Kadiwala, head of RSS-Gujarat, said that to enlighten the people of the country several thousand of their workers will carry out door-to-door campaigns. In Gujarat, the campaign started from Saturday and would continue till February 6.
RSS will also organise group meetings in the areas where they carry out door-to-door campaigns, he said adding that special group meetings will be organised for doctors, advocates and professors among others.
"The only intention of RSS is to clarify that the Sangh is not for terrorism in the state. The Congress wants to ban RSS; the Sangh is not afraid of it. In the past, too, efforts were made to ban RSS, but failed. This time also we are ready to fight it out," Kadiwala said. RSS has not sought BJP's political support, he claimed.
Terming it a conspiracy against Hindus and RSS, Kadiwala, said that there was an effort to link the organisation to various bomb blasts. "After the Samjhauta blast, the same Congress leadership, had named Safdar Nagori in the matter; now, they are out to link the RSS to the same blast incident," he said, adding that either Congress was wrong then or it is wrong now.
Central Bureau of Investigation was being misused by the Congress and Gujarat is an example, he said. Pointing out that it was the same CBI which had dropped charges against senior BJP leader L K Advani and others in Ayodhya case, he said, "the party in power was different then."