Running barefooted, tribal youth of Vanavasi Kalyan won Bangalore International Midnight Marathon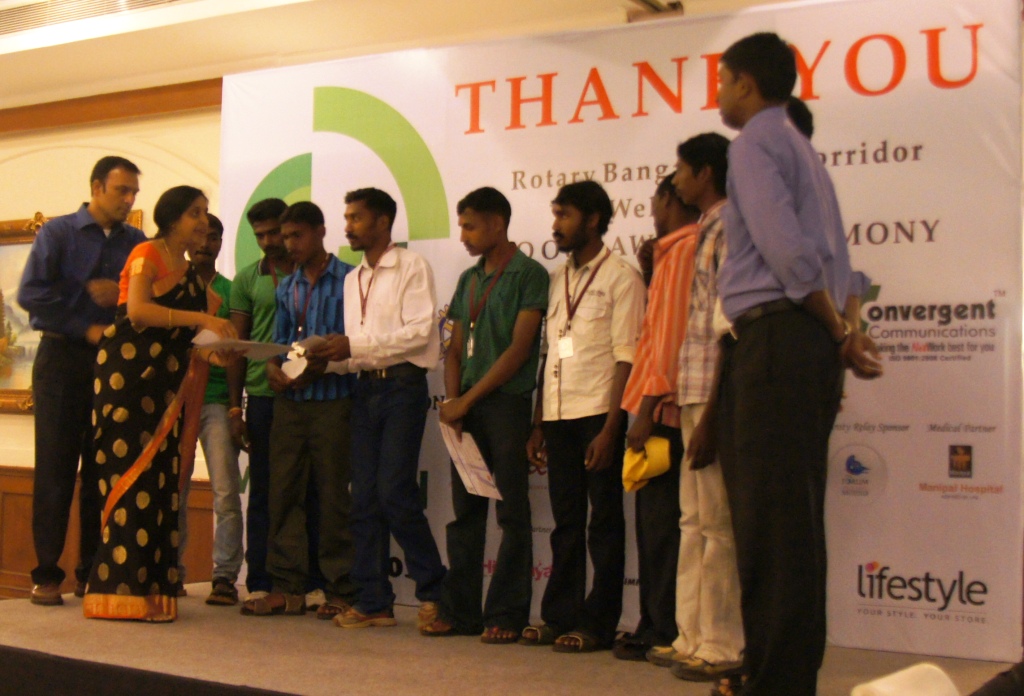 Bangalore: Running barefooted, an 8 membered team of tribal youth of Vanavasi Kalyan won Runner-Up award in reputed Bangalore International Midnight Marathon, recently held in the city.
In an event where nearly 8500 athletes participated, the Vanavasi Kalyan team stood against all odds and won this prestigious Marathon, running in barefoot, has got special congratulations by the public, organisers.
Midnight International Marathon is first of its kind in the world, was organised on December 10th by Rotary Bangalore's I.T. Corridor unit, with a motto of 'Run for a Child', to create awareness about Child healthcare, nutrition and Child education.
With just a delay of 90 seconds, Vanavasi Kalyan team secured second place in the Men's 35km section of Marathon relay. The first and third prizes were bagged by teams sponsored by reputed Software Companies TESCO and HP respectively.
Hailing from the dense forest area of Titimati of Virajpet Taluk in Kodagu district, Karnataka, these youth are participating in their maiden Marathon race. Of this 8 membered team, Maada, a student of class 12 is a known sprinter. Others, Vishwanath, Harish, Papu, Raju PN, Suresh, Timmayya, Venkatesh are coolie workers having a high athletic skills.
With a spirit to imbue the confidence of these tribal talents, well known Physician Dr Rekha S Neela and her husband, businessman Srinivas R Neela, sponsored the Vanavasi Kalyan team and introduced these Vanavasi talents to an International Platform. Venkatesh Nayak, Coordinator of Vanavasi Kalyan Ashrama-Karnataka guided the team throughout.
Though the Vanavasi youth were lacking many civic facilities, never underwent any coaching or special practice for Marathon, were looking confident during the event. Being barefooted they won this event, just keeping the experience of few previous domestic athletic events. "There are many skilled youth at Vanavasi areas, if a proper care is taken, coaching is provided, talents are nurtured, they are capable bringing glory to nation by winning medals at Olympics", says Dr Rekha.
Mr Venkatesh Nayak said "Vanavasi Kalyan has given the nation the Olympian Limba Ram in archery and Kavitha Raut in 10 Km race."
The prize distribution ceremony was held at the premises of Hotel Royal Orchid on Saturday, December 17th, in which the audience congratulated the team with a standing ovation.
ABOUT THE MARATHON: In 2007, The Rotary Bangalore IT Corridor, organized the 1st Bangalore Midnight Marathon. The marathon was the first of its kind in the world, being the only marathon that was run in the middle of the night. The only other similar run in the world was in Norway. This event, though being a night event, was run in full brightness, given that Norway is the country of Midnight Sun.
The Bangalore Midnight Marathon has several advantages – traffic and pollution is less at midnight, the cool temperature of the night is also conducive for running. Over the years, the organizers have innovated the run, adding fun element to make it interesting for both professional & casual runners alike. Large Display Video screens along the track, decorative lighting, live performances by rock bands & plenty of food add to the fun element of the run. It gives this Marathon a festive feel and makes it it a great experience for the runners & their supporters.