'Sack Shinde' Slogans mounts across nation as Hindu Organisations stage massive protest against HM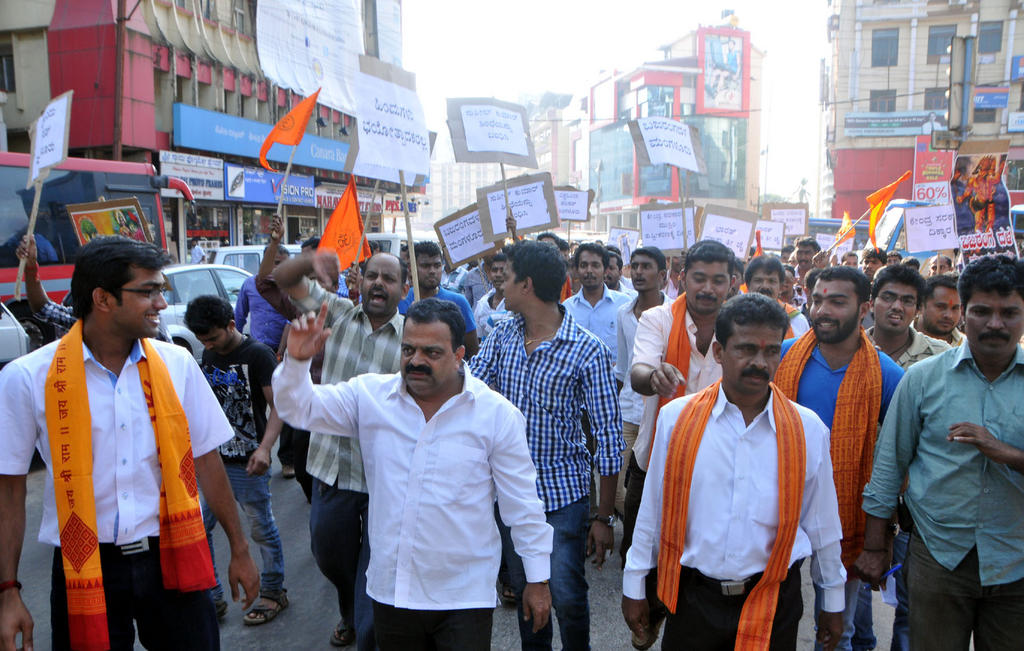 Bangalore/New Delhi Jan 24, 2013: Demanding the Prime Minister Manmohan Sing to sack Home Mister Sushil Kumar Shinde over his remarks on RSS and Hindu Terrorism, several pro-Hindu organisations staged massive  protest across the nation today.
BJP was aggressive on Shinde's comments, hold Protest Dharna's at all major District headquarters of India. RSS, Other Sanghparivar cadres also supported the protest, staged dharna, shouted slogans against Home Minister and UPA govt. Protestors claimed that the UPA government is totally biased  acts as anti-Hindu government in a Hindu Country.
BJP President Rajnath Sing, Sushma Swaraj and several other leaders protested at Jantar Mantar New Delhi. In Bangalore, BJP hold protest at more than 25 places, in which State BJP President KS Eshwarappa addressed the protest rally at Mysore Bank Circle, KG Road, Bangalore.
Thousands of Pro-Hindu social media activists expressed their protest against Shinde's remarks. On Twitter and Facebook, several accounts changed their DP (Display Picture) from Photo to a Saffron colour or Saffron flag. 
Chennai: BJP in Chennai led the protest against the defamatory comments made by the Home Minister Sri Sushil Kumar Shinde at Valluvar Kottam, Chennai. Hindu Munnani, VHP, Sewabharathi, SJM, BMS and other Sangh Parivar Organisations participated in the protest. Nearly 400 persons participated in the protest. Sri Kanakarajan (VHP), Sri Nambinarayanan (SJM), Sri Durai Shankar (Vibhag Sanghachalak), Sri M D Shankar (Vibhag Pracharak), Sri Veerabahu (Editor, Vijayabharatham), Sri Rama Gopalan (Hindu Munnani) and Smt Vanathi Srinivasan (BJP) addressed the gathering. They demanded the resignation of the Home Minister and tender apology to the public.
On January 20, Home Minister Sushil Kumar Shinde  said at the AICC meeting in Jaipur "Reports have come during investigation that BJP and RSS conduct terror training camps to spread terrorism. Bombs were planted in Samjhauta express, Mecca Masjid and also a blast was carried out in Malegaon. We will have to think about it seriously and will have to remain alert . This has come so many times in the papers.It is not a new thing that I have said today. This is saffron terrorism that I have talked about. It is the same thing and nothing new. It has come in the media several times," the home minister said.
RSS criticised strongly over Shinde remark, Dr Manmohan Vaidya, senior RSS leader said " While the entire nation is struggling to counter the Pak-sponsored extremism, and is losing the precious lives of brave security personnel in this fight, the immature and irresponsible statements by the Union Home Minister has not only boosted the morale of the Paki terrorists but also unfortunately demoralized our security men, and thereby weakened our fight against terrorism at the international level. The RSS takes strong exception to this blunder committed by of the Home Minister. While the investigation of some of the terror acts is in progress the conclusion of which is still awaited, the misleading statement of the Home Minister is a politically motivated conspiracy to influence the very process of investigation. This is extremely objectionable that deserves to be condemned"
by all.
"The Home Minister's statement has deeply hurt the feelings of millions of countrymen. RSS, therefore, appeals to all the patriotic people of the nation to actively participate in the country wide demonstrations called on 24 th January to protest against the unpatriotic stance of the Home Minister and create
pressure on him and the Congress Party to apologize for their lapse." said Dr Vaidya.