Bangalore August 24: In a simple ceremony, Bhoomipooja of the new 'VIKRAMA' office was performed by RSS State Secretary Sri N Tippeswamy in presence of Senior Sangh office bearers here in Bangalore today.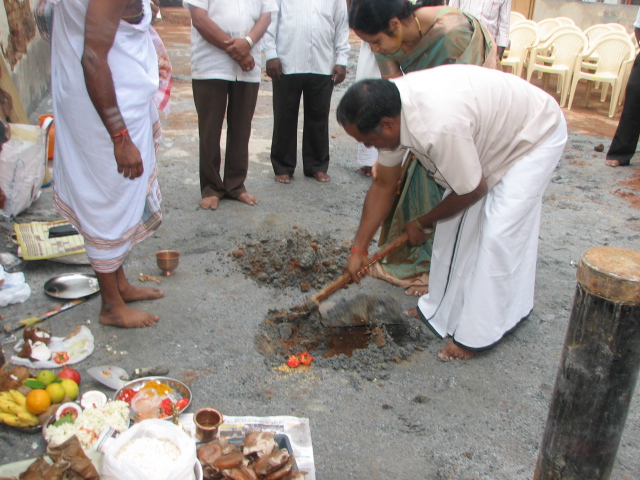 VIKRAMA, has a 63years of history, is the RSS Mouthpiece weekly magazine in Kannada established in 1948. Vikarama is one of the oldest media of RSS, began almost contemporary to 'Panchajanya' of Hindi and 'Organiser' in English. Vikrama is known for its thought provoking articles by several senior writers including late H V Sheshadri, late  Dr Upendra Shenoy.
During Bhoomipooja ceremony Mai Cha Jayaedevji, RSS National Executive Council Member,  Senior Sangh Pracharaks Sri Na. Krishnappa, Sri Su Ramanna, Sri Chandrashekhar Bhandary, Sri K S Nagaraj, RSS State Joint Secretary (Saha Pranth Karyvavah) Prof B V Sreedhara Swamy, RSS Pracharak for IT-Milans, Dr Suresh Nayak and several others were present. Chief Editor of Vikrama Du Gu Lakshman and Senior Journalist of Vikrama Sri Ramananda Acharya were present and welcomed all invitees.
The new office will be built at the same location of old office which was completely demolished few months back for the new construction; at Chamarajapet 5th Main Road of Bangalore.
Find epaper of Vikrama: http://vikrama.in/epaper.php?date=08-23-2011&name=08-23-2011-1