'Shri Guruji Golwalkar – Biography ' By H. V. Sheshadri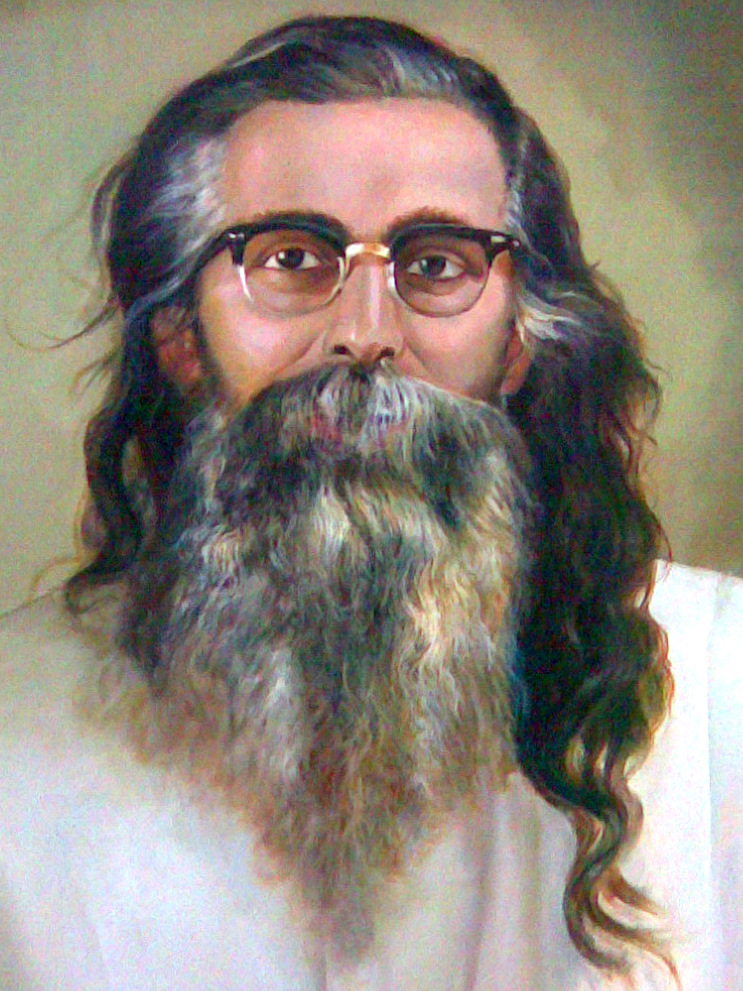 Who was Shri Guruji?
Let us look at the brief answers to these questions. Shri Guruji was the second all-Bharat Chief of the Rashtriya Swayamsevak Sangh. He was born in 1906. The special occasion round the corner is the celebration of his birth centenary. 'Guruji' was not his original name. This name was used out of regard, by his students in Banaras Hindu University where he taught. He is better known by this name even today throughout the Sangh and the nation. His name was Madhav Sadashivrao Golwalkar. His father's name was Sadashivrao and his mother was Lakshmibai. They lived in Nagpur. In his childhood, Shri Guruji was called lovingly as Madhu. Eight progenies of his parents before him had met a premature death. Those days, Nagpur was a province of modern Madhya Pradesh. His father was a teacher. He was continuously posted in Hindi speaking areas. Although, his mother tongue was Marathi, since Hindi was the general spoken language, Madhu had a firm grip on Hindi as well. And as his school was managed by the Christian missionaries, Madhavrao (his name in school) developed mastery in English, too.
The atmosphere in Madhavrao's house was pious and religious. Right from his childhood, his mother would wake him up with devotional songs, rendered in her melodious voice. This left a deep cultural imprint on him. He would cherish her songs very fondly, when he grew older.
Prodigious Intellectual Talent
Madhavrao was a sharp boy with prodigious memory. Once, his school teacher Prof. Gardener was teaching the Bible. Madhavrao interrupted saying, "Sir, the reference given by you is not correct, actually it should have been like this…." And saying thus he uttered another sentence. All the students and Prof. Gardener were amazed. But when it was cross-checked with the Bible, he was found to be correct. At the end of the class, the Professor gave him a fond pat on the back. This incident served as a witness to his qualities, like exceptional memory, courage and unshakeble self-confidence. His memory served him till his last day. Even today, throughout the country, people recall anecdotes of his phenomenal memory.
Extraordinary Forbearance
In 1924, having completed his studies up to Intermediate, Madhavrao left for the famous Banaras Hindu University, to finish his B.Sc. The huge repository of invaluable books in the library there was as if waiting to quench his thirst for knowledge. Madhavrao started reading the books, through and through, one by one. One day, his toe was bitten by a scorpion, but he very casually cut that portion of his foot, dipped that foot in potassium permanganate solution and resumed his study. Amazed at this, one of his friends asked, "How do you manage to study despite such severe pain?" Madhavrao replied, "Well, the scorpion has bitten my foot, not my head!" Later on also, people have many a time witnessed his tranquil tolerance under most excruciating physical pains.
Disciplinarian
Madhavrao returned to Nagpur after completing his Masters in Zoology with first class from Kashi and a few months later, left for Chennai for research in aquarium. There also, people experienced his passion for strict discipline. Once, the Nizam of Hyderabad paid a visit to the laboratory. All the visitors were charged with entrance fee. The managers, however, thought it inappropriate to ask for entrance fee from a big shot like the Nizam. But Madhavrao insisted and the Nizam could enter only after paying the entrance fee. In 1929, his father retired from service and this led to a financial crunch. Money could no longer be sent for pursuance of Madhavrao's studies and ultimately, he left research work and returned to Nagpur. In his correspondence of those days, to his friends, Madhavrao expressed his sentiments as to how he felt in consonance about the incidents of the aggressive patriotism of revolutionaries.
Boundless Love for Students
From August 1931, Madhavrao began teaching at Banaras Hindu University. During this period, many of his hidden talents came to light. His unfathomable love for his students drove him to help them at studies in every possible way; often he would purchase the necessary text-books for needy students or financially assist them to pay their examination fees. He would be happy spending a large sum of his salary to this end. He would delve deep into other subjects also, so that he could help students in those subjects. Doing all this, Madhavarao had no expectation in return at all. Pandit Madan Mohan Malaviya noticed his talent as well as his deep affection for the students, and grew fond of him. It was through a Swayamsevak from Nagpur, Shri Bhaiyyaji Dani, who was sent there as a student by Doctorji, (Dr. Hedgewar, the founder of RSS) that Shri Guruji came into contact with the Sangh. He also became the Palak (guardian) of that Shakha.
In February 1933, on the expiry of his teaching term, Shri Guruji returned to Nagpur and by 1935, completed his study of law.
What If The Family Tree does Not Branch Out Further?
Meanwhile, having seen Shri Guruji from closer quarters, Doctorji tried to maintain contact with him. Recognizing his extraordinary working capacity and intellectual talents, he started delegating greater responsibilities to him. In 1934, Shri Guruji ably discharged the duties of Sarvadhikari (officer-in-charge) of Sangh Shiksha Varga (Officer's training camp) in Akola. By now, it was very natural for his parents to think of his marriage. Shri Guruji's mother put forth the proposal for his marriage and said if he decided against marrying, their Golwalkar family lineage would cease to exist – he being the only surviving son. Shri Guruji replied, "In the present situation it is necessary, that, for the welfare of the society, if the family lineages of not only me, but several others like me are terminated, I am not in the least worried." The debate over his marriage ended then and there.
In Search of his Life Mission
Shri Guruji was seriously thinking of orienting his life in a definite direction. The pathetic plight of the Hindu society and of an enslaved nation tortured him on the one side; on the other, it was his inborn spiritual pursuit that pulled him. He started visiting the President of Sri Ramakrishna Ashram, Swami Bhaskareshvarananda in Nagpur. There he came in close and friendly contact with Sri Amitabh Maharaj. He came to know through him that in the Sargachi Ashram, in Bengal, there stayed Swami Akhandananda, a direct disciple of revered Sri Ramakrishna Paramahansa. In 1936, one fine day, based on the information received from Amitabh Maharaj, Shri Guruji quietly left for Sargachi in search of a spiritual guide. Neither his parents nor anybody else knew his whereabouts. When Shri Guruji left for Sargachi, Doctorji who was thinking about entrusting him with more and more responsibilities became equally concerned for him.
Unique Personification of Service
Sargachi witnessed another brilliant aspect of Shri Guruji's personality. He immersed himself in the service of Swami Akhandananda, who was quite old and indisposed. Shri Guruji would daily bathe him, wash his clothes, offer him tea and meals, and put him to bed. Often Shri Guruji would sit through the night at his bed-side and serve him. About six months passed in this manner. His untiring dedicated service and his spiritual orientation pleased Swamiji so much that he decided to initiate him into the Order. Shri Guruji was overwhelmed after getting initiated. Later, he described the moment thus, "I have received the blessings one gets after innumerable births. My body felt thrilled all over and I am finding myself an altogether changed person." 13th January, 1937 (Makar Sankranti) was the auspicious day of initiation. A few days later, on 24th January, Guru Maharaj gave his blessing to Shri Guruji, saying, "Whatever good I have, I am giving it to you; and whatever bad you have, you give it to me." That day, till 3.30 a.m. Swamiji disclosed the secrets of spirituality to Shri Guruji and Amitabh Maharaj. One day, Swamiji told Amitabh Maharaj, "It seems that Golwalkar would work in association with Dr. Hedgewar." As a mark of his memory, Swamiji gave his personal belongings like Kamandal etc. to Shri Guruji. After a short while, in February, 1937 the revered Swamiji left his mortal coil. Later, Shri Guruji spent some time in Ramakrishna Ashram, Belur Math and then along with Amitabh Maharaj returned to Nagpur.
In Nagpur, Shri Guruji's, life took an altogether new turn. In Doctorji, he saw a personality intensely motivated and dedicated to the nation. On being asked by some gentleman on the subject, Shri Guruji replied, "Like spirituality, organization of the Nation has also been my inclination from early days. I believe that I would be in a better position to achieve it successfully being a part of the Sangh. Hence, I have dedicated myself to the activities of Sangh. In the light of the insight and practical approach of Swami Vivekananda, I think my decision is appropriate."
Shri Guruji was also closely observing Doctorji, who had put his heart and soul into this work. From 1938 onwards, Shri Guruji identified the work of Sangh as the sole mission of his life. In the close company of Doctorji, he focussed his entire attention on the activities of Sangh. This also relieved Doctorji of his worries.
Vijay hi Vijay Hai
Unique Correspondence
Shri Guruji was engaged constantly in providing guidance to the Sangh and the nation in one way or the other. Along with it, he also remained regularly in close and extensive touch with various eminent personalities, organizations, well-wishers and Swayamsevaks through letters. The entire correspondence was carried on by himself and with some help from his assistant Dr. Abaji Thatte. The subject of his letters would naturally vary. Perhaps there is no other such personality except Mahatma Gandhi, who has written such copious and varied types of letters. Likewise, there is no leader who has constantly traveled to all the parts of the country twice every year, for thirty long years.
The Signs of Dusk
It was but natural that this superhuman efforts and hard work of Shri Guruji would finally take its toll on his health. By the time Shri Guruji turned 60, his health started deteriorating. In May 1970, a lump was noticed in his chest. It was diagnosed to be cancerous. Even then, he decided to get it treated only after his already scheduled tour of May and June was completed. On 1st July he was operated upon by Dr. Praful Desai at Tata Cancer hospital. Dr. Desai was then unacquainted with the activities of the Sangh. About Shri. Guruji, he wrote, "I was wondering how Shri Guruji would be able to take such an intense and long surgery at 65. But the calmness, courage and cooperation with which he went through the whole procedure, with the smile never leaving his face, it was amazing. He started walking around the very next day." Shri Guruji asked the doctor as to how long would he live post operation. Getting his reply, Shri Guruji said "Wow! Very good! It means I have a lot of time. I have to work a lot!" Dr. Desai continued the regular check-ups. And soon Shri Guruji was back to his routine, writing letters, touring, meeting Swayamsevaks etc.
In the Thane Camp
Shri Guruji's travels were on. By the end of 1971, he started feeling seriously unwell. He felt his end was nearing. He decided to have his last discussions with the prominent Swayamsevaks, as per the Hindu tradition. Accordingly, in the Tatvajnana Vidyapeeth at Thane in Maharashtra, run by honorable (now late) Pandurang Shastri Athawale ji, the programme was organized. Shri Guruji was present during the Abhyas Varg (study camp) of the prominent workers deployed in various activities aimed at narturing the true national spirit. There were suggestions that if the Sangh adopted the word "Bharatiya" instead of "Hindu" it would absolve it of the charge that it was communal. Shri Guruji presented the Hindu thought in its positive aspect and removed all the doubts on this issue with reasoning based on historic perspective and his personal experience. Along with this, he also discussed in depth other ideologies and did a comparative study of other belief systems and elaborately explained how the Hindu philosophy alone is capable of ensuring highest standard of welfare for the humanity and yield permanent happiness.
Ever-Victorious
Shri Guruji continued his travels even after the Thane Camp. On 4th February 1973, in Bangalore, he delivered a public address in fluent English, for one-long hour and that too, standing. None in the audience of thousands of Swayamsevaks and other citizens felt that he was about to leave this mortal world so soon. On 25th March, he delivered what was to be his last speech to the important workers from all over the country in Nagpur, on the occasion of Akhil Bharatiya Pratinidhi Sabha. The Swayamsevaks listening to him were wishing that he should finish his lecture soon as he had to struggle to speak every word. But even in this state of failing health, he spoke for 40 minutes. He said, "The single aim of all our different endeavors should be to make our nation stand high commanding worldwide respect for our country." He emphasized, "Whatever be the atmosphere, tread on your path with this faith that the word 'Hindu' will be recognized all over one day." And he concluded his speech saying, "Vijay hi vijay hai" (ever victorious)
Premonition
In Nagpur, in May, the Third Year Shiksha Varga of the Sangh was going on. It was impossible for Shri Guruji to make it to the Varga. Hence, in keeping with his strong urge it was arranged that Swayamsevaks province-wise were called into the Sangh karyalaya to meet him. There he got acquainted with them and emotionally appealed to them to carry on the Sangh work whole-heartedly and steadfast. The programme lasted from 16th to 25th May. Later even that could not be carried on. The Swayamsevaks from various parts of the country and other eminent personalities from all walks of life kept pouring in to the Sangh Karyalaya to enquire about his health. On the 3rd of June when the Sanchalika of Rashtra Sevika Samiti, respected Mausi Kelkar called upon him, he meaningfully said, "I am fully ready." On the evening of 4th June, when the workers attending upon his came with a bottle of oil to give him massage, but it was empty. He jokingly said, "It's over now! Good. Tomorrow, who will be there for massage?" On 5th June in the morning, he took his bath and meditated sitting on his usual seat. Later at 9.30 in the night, he breathed his last and his soul got liberated from the shackles of the mortal body.
The Moment of Inexpressible Grief
His body was kept at the front of Mahal Karyalaya in Nagpur. On the morning of 6th of June, grief-stricken people thronged the place. The three letters, written and sealed by Shri Guruji were opened and read. The Sanghachalak of Maharashtra province Shri. Babasaheb Bhide read the first letter wherein Shri Balasaheb Deoras was given the charge of Sarsanghachalak. The other two letters were read by Shri Balasaheb Deoras. In the second letter, Shri Guruji had indicated that it was not desirable that a memorial be erected for anyone other than that of the founder of the Sangh, Dr. Hedgewar. In the third, he had humbly written, "If I have ever knowingly or unknowingly caused hurt to anyone, to all of them I tender my apologies with folded hands." This deeply moved the thousands of people who had gathered there who burst into tears. Shri Balasaheb himself felt choked. An Abhanga (composition) of Saint Tukaram was also mentioned in this letter, the meaning of which is –
O Saints! Please forward my last request
To the God that He might not forget me.
He knows everything; what may I say more.
Tukaram says his head placed on His feet
I may always remain under the shadow of His grace.
His body was given Mantra-agni (fire sanctified by sacred mantra) and cremated by the side of the Samadhi of Doctorji in Reshambag, (Nagpur) on a pyre made of sandalwood. The fire soon consumed his body, which like the sandalwood dissolved into the five elements. Later Bhagwadwaj was hoisted and the gathered thousands sang the prayer of the Sangh in grief-struck tones. And after the utterance of Bharat Mata Ki Jai all the Swayamsevaks returned home, with heavy hearts.
Now Reshambag is home to two great personalities in their chaitanya form Dr. Hedgewar sitting in the form of his image is on the upper floor of Smriti-Mandir and Shri Guruji, like the sage Dadhichi (who sacrificed his body for the welfare of gods and mankind.), as a smriti chinha (a symbolic memory). The statue of Dr. Hedgewar seems to be saying, "My selection was just right. Shri Guruji has spread the glory of the Sangh worldwide."
Tributes by the Nation
Several saints and eminent personalities paid their homage to Shri Guruji. Acharya Vinoba Bhave said, "Shri Guruji was not in the least narrow-minded. He was always driven by the lofty ideals of national interests. He considered other religions like Christianity and Islam with due respect and always hoped that in Bharat nobody would be isolated." The Jagadguru Shankaracharya of Puri said, "He was a saint, in white robes." Jain Acharya Sushil Kumar Muniji said, "Shri Guruji was a giant of a man of our heritage." Jain Sage Acharya Tulasi said, "He was endowed with the qualities of both a connoisseur and a thinker." In the Parliament, President V.V. Giri, Speaker Mr. Gurdayal Singh Dhillon and other eminent personalities extolled the qualities of Shri Guruji at length. Prime Minister Indira Gandhi said in the Parliament, "We have lost in Guru Golwalkar a famous personality, who was not a Member of the Parliament. He held a respected position in the nation by the force of his personality and the intensity of his convictions." Shri Shyam Nandan Mishra of the Congress said, "He was a great Karmayogi and Atmajnani." Shri Samar Guha, a Socialist leader said, "He inspired the qualities of patriotism, dedication and service in thousands of youth of the country." Another Socialist leader S.M. Joshi said, "Shri Guruji was a sage." The leader of Akali Dal, Jathedaar Santosh Singh said, "He was a great man, the kinds who are immortals. The Sikh community has suffered a great loss." Marxist Taki Rahman said, "Though I have never seen him but I have felt the power of his inspiration in those who have faith in the bright future of the country." Congressman Shri Hatizuddin Qureshi said, "He was indeed a great man, He was not anti-Muslim. The Muslims have been misled that the Sangh is anti-Muslim." Shri Jai Prakash Narayan said, "Shri Guruji was a spiritually great personality, who awakened thousand of youth to true nationalism."
All the leading newspapers and journals shed light on the different aspects of the unique personality of Shri Guruji. The Sanchalika of the Rashtriya Sevika Samiti, Smt. Mausi Kelkar, and the leaders of Bharatiya Jansangh Shri Lal Krishna Advani and Shri Atal Bihari Vajpayee amongst other eminent personalities also paid their homage to Shri Guruji.
Modern Bhagirath, Modern Ganga
In Conclusion, as a harbinger of a new nationhood, Shri Guruji infused a unique intrinsic power into the national life through his unmatched personality and actions. In the words of a senior worker of the Sangh, Shri Baburao Vaidya, "Bhagirath brought down the water of the heavenly Ganga to the earth by the power of his severe penance, and nourished and enriched the land of Bharat. In the same manner, Param Pujaniya Doctorji, brought the life stream of Param Pujaniya Guruji, who was on a spiritual path to Liberation (moksha), for the service of the people of Bharat. Thus, he (Dr. Hedgewar) carried to fulfillment the mission he had started to unite, organize and strengthen the Hindu society."