New Delhi:  Siddhartha Mallya, son of liquor baron Vijay Mallya, claimed that he is a certified Christian priest.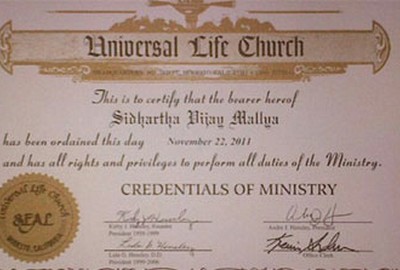 The heir of the United Breweries Group, Siddhartha made the announcement on a social networking site Twitter that he is a certified priest of the Universal Life Church (ULC).
He displayed the certificate confirming that he has been ordained. "Can now legally call myself the Rev. Mallya!!" he tweeted.
The ULC is a religious organization which states that anyone can become a minister without having to go through the pre-ordination process required by other religious faiths.
ULC ministers are authorized by the church to officiate weddings and funerals, perform baptisms or verbal baby naming ceremonies, hold services and other sacraments and rites.
The certification means that he can now perform all the functions of a clergyman.
"Apparently I can perform weddings, funerals, baptisms, blessings and preach, teach and hold meetings," he tweeted.
All ministers in the ULC are also authorized and encouraged to ordain others as ministers in the church.
The ordaining minister informs the home church of the ordination and the new minister's information is added to the official church records.
Source: http://www.ucanindia.in/news/mallya-junior-turns-christian-priest/18332/daily
See also: http://zeenews.india.com/entertainment/celebrity/sidhartha-mallya-surprises-all-by-becoming-a-certified-church-priest-pic-inside_113997.htm