Sudarshanji's Vaikunt Samaroh held at Mysore: RSS functionaries, Swayamsevaks, Family express grief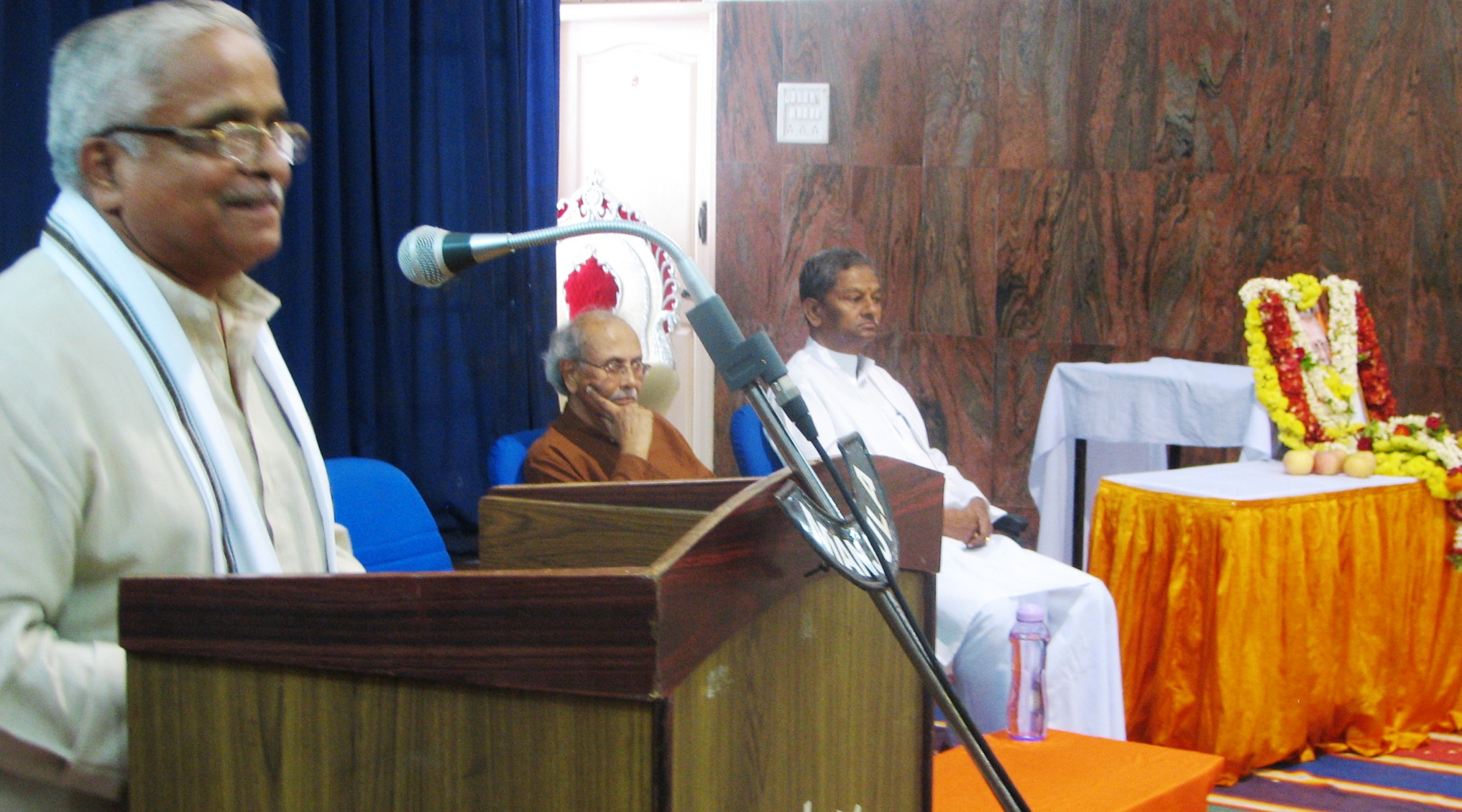 Mysore September 26: "Standing tall to the morals and principles, Sudarshanji was a rare personality to whom RSS will ever remember for his Intellectual contributions to the organisation. His life and message is a guiding force to all Swayamsevaks. He showed the right path for a social worker how to be with people even though there exists a difference in ideology among each other, Sudarshanji is indeed a role model for Sangh Swayamsevaks" said RSS General Secretary Suresh Bhaiyyaji Joshi at Mysore.
RSS Sarakaryavah Bhaiyyaji Joshi was addressing Shradhhanjali Sabha (Condolence Meet) of Fomer RSS Sarasanghachalak Sudarshanji at Mysore organised as a Part of

Vaikunt Samaroh

(a hindu post-death ritual, practiced after 12days of death of a person) at Sudarshanji's native, Mysore Karnataka. Sudarshanji's Family hails from Kuppahalli village of Mandya district closer to Mysore.
Bhaiyyaji further said, "Sudarshanji never compromised with Hindutva Ideology. Growing beyond a portrayed image that RSS is anti-Islam or Anti-Christian, and even being RSS Sarasanghachalak Sudarshanji closely associated many friends/scholars from Islam-Christian community. This shows that Sudarshanji and RSS, always open for all who loves our nation. On September 16, during Sudarshanji's funeral ceremony around 1500 Muslim friends from different states arrived and expressed their condolences. Sudarshanji always use to say about the Good and Bad interpretations of religious literature both in Islam and Christian religion. However, he was open for all intellectual dialogues among these communities. Sudarshanji's this attitude shows that a social worker though has any ideological difference with anyone, it has nothing to do for friendly dialogues. 'Dont hate a person, even if you hate his ideology', this was Sudarshanji's message".
"As Sharirik Pramukh and as Boudhik Pramukh, Sudarshanji guided both Physical and Intellectula training in RSS. Sudarshanji was such a tall scholar, but for all common swayamsevaks he was reachable at ground zero. Even as an octagenerian Sudarshanji was training small kids of 6-8 years of age at RSS Sanghasthan (playground where RSS Shakha held) meanwhile he was attending top level intellectual conferences with Top scholars. Hence Sudarshanji was such a rare personality to set his life with utmost simplicity and discipline. His death resembles the death of a Yogi, as he died early in the moring during Pranayam, even without any suffering, as per the vedic saying 'Anaayaasena Maranam' said Bhaiyyaji Joshi.
RSS Senior Pracharak K Suryanarayan Rao remembered the valuatble contribution of Sudarshanji on social harmony between different communities.
KS Ramesh, brother of Sudarshanji remebred the early life of Sudarshanji, his family relationships, and said "Our family feeling despondency over Sudarshanji's demise, Sudarshanji was our Family's mentor".
RSS top functionaries Mai Cha Jayadev, Na Krishnappa, Mangesh Bhende, Su Ramanna, Kajampady Subramanya Bhat, Chandrashekar Bhandary, PR Krishnamurthy, Jayakumar of Vijnan Bharati, AS NIrmal Kumar of Janaseva Vidya Kendra were present. Hundreds of RSS well wishers, villagers from Kuppahalli, Sudarshanji's family members attended the Vaikunt Samaroh ceremony.
Earlier, Sudarshanji's burnt ashes 'Chitha Bhasma', were made to flow in Paschima Vahini of river Kaveri at Sriranga Pattanam. RSS Mysore City Seva Pramukh Manjunath performed all religious rites during and before Vaikunt Samaroh ceremony under the guidance of famous priest Sri Bhanuprakash. Bhaiyyaji Joshi felicitated both Manjunath and Bhanuprakash for their timely contribution.