Bangalore: Eminent personalities enlightened students of IITs, IIMs and NLUs like premier institutes at two-day Think India 2012 conference organized by Think India at Satish Dhawan Auditorium, Indian Institute of Science, Bangalor, held recently.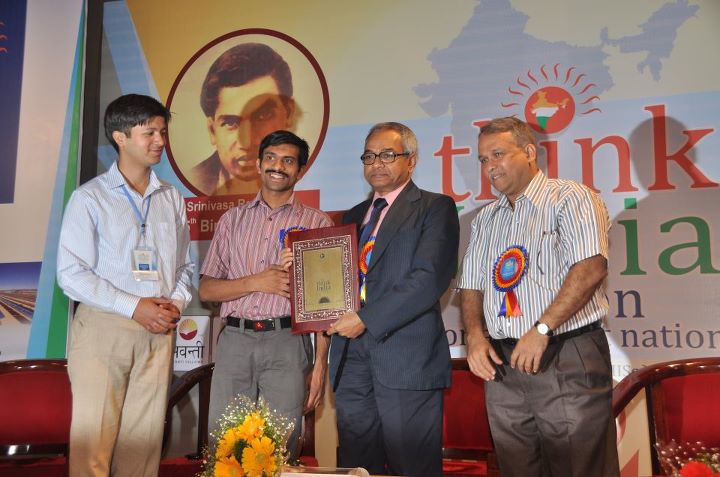 This year's edition titled 'Vision for a Vibrant Nation' organized by Think India, a forum for premier institute students, saw participation of over 200 student, researchers, alumni and faculty from 27 different institutes of India, Including topmost IITs, IIMs, NLUs and NITs in India. Prof P R Mahapatra, Dean Engineering Indian Institute of Science inaugurated and Prof Milind Marathe, National President of ABVP presided over the inauguration.
Highlights of this two-day conference include seven thematic sessions where speakers like Prof V K Aatre, Former Director General DRDO, Shri Mohandas Pai, Founder Director Infosys, Prof R Vaidyanathan, noted Black Money expert and IIM Bangalore faculty,  Shri Anand Kumar, Super 30, Dr Girish Kulkarni, eminent Social Activist, Prof Venkata Rao, VC NLSIU Bangalore, Prof Sandeep Sancheti, Director NIT Surathkal, Shri Ram Madhav, Noted Thinker, Shri Bal Aapte, Social Activist & Member of Parliament, Dr Tathagat Avatar Tulsi, iconic young scientist, Shri Sunil Ambekar, Student Activist and National Organisng Secretary ABVP, Shri Y B Rmakrishna, Prof LS Ganesh, Dean Students IIT Madras and Prof G Ramesh, IIM Bangalore took the dais.
Paper Presentations and Interactions with experts, achievers & role models and cultural extravaganza named 'colors of India'. Think India 2012 to have six different competitions in Photography, Poster, Idea Impact, Essay Writing, Short Film and Street Play in which total Prizes of worth 2 Lac were given out.
Inauguration
In Inaugural address, Prof P R Mahapatra, Dean Academics IISc, talked of need to think of India, which one hand makes us feel proud of achievements in Science and Technology and development , yet it reminds us about other India, which is hasn't seen fruits of development. In President's Address, Prof Milind Marathe, National President of ABVP, who presided over the inaugural ceremony, told students of premier institutions that they are privileged to study in India's finest Institutions and have responsibility to bear. Introducing ABVP, He explained aim, vision and philosophy of their student movement. Sreevatsa Kolathayar, Chairman Sudents' Council IISc and Convener of the conference presented welcome speech and informed participants of what to expect in the conference. Ashish Chauhan, convener of the Think India, gave an introduction of Think India to the participant of the conference. Miss Reema Mukharjee, President SAC IIM Bangalore and Co-convener of the Think India 2012 gave vote of thanks.
Understanding India
Social Activist, noted lawyer and Member of Parliament (Rajya Sabha) Bal Apte efficiently took the theme of the session 'Understanding India', highlighting how Indian civilization is the solution not problem of issues faced by world today. Shri Apte, spoke of our glorious heritage and achievements and need of harnessing population dividend today India has. Dr M K Awasthi, faculty at Indian Institute of Management, Lucknow presided over the session.
Challenges and Opportunities for India in Contemporary India
Ram Madhav, a noted thinker spoke on 'Challenges and Opportunities for India in Contemporary India' that today India must exercise a competitive international political-diplomatic strategy quoting Joseph Nay of Harvard University for Theory of hard power & soft power, he asked policy makers to seek more avenues for India soft (strategic) power implementation. Shri M K Sridhar, secretary of Karnataka state knowledge commission chaired the session.
Real Life Role Model
In a heart touching session speakers Shri Anand Kumar, founder Super30, Dr Girish Kulkarni, Founder Snehalaya, Shri Mohandas Pai, Founder Akshyapatra took participant to the very issues facing todays Bharat and told their rela life stories of action in dealing with those issues. Anand Kumar spoke of Poverty and thirst for education and vindication of his and efforts of Super 30 family, Dr Girish Kulkarni eminent social activist spoke of Human trafficking and flesh trade and his work at snehalaya , a group working for up-liftment of female sex workers and their wards, and how Snehalaya run itself on fund raised from each customer to the FSW. Shri Mohandas Pai, Founder Director of Infosys and Founder Akshyapatra spoke of Hunger as a deterrent to human civilized existence and told how team Akshaypatra took initiative to give food to lakhs of government school across Karnataka. Three contrasting work strategy where Shri Anand Kumar doesn't take any donations, Shri Girish Kulkarni only takes from individual and people associated with snehalaya movement and Shri Mohandas Pai involves corparates and even Akshayapatra took lones from the banks to constantly serve the hungry.
Pin drop silence was broken with standing ovation every time anyone of these heroes took the dais. Dr Kishor of NIMHANS moderated the session.
Presentations & Competitions
Street Play by students of GNLU Ganshinagar and Indian Institute of Science were played at JN Tata Auditorium Parking area under theme 'Dreams and Dilemmas' during the evening session, followed by conference paper presentation at the Satish Dhawan Auditorium, four participants presented their paper on theme 'India of My Imagination'. Followed by the Idea Impact competitions where 14 different ideas were delivered by students through Power-Point Presentations under theme of 'Ideas for Society, social impact and social transformation'. Photography and Poster Competition were taken at the gallery for the display of the presentations, Essay Writing were went for final round during the completion and Short Film was screened and judged by National Award Winner Director for Child Film Abhay Simha.
Cultural Function
'Colours of India' was displayed at the cultural function with Bhangra, Baratnatyam and Bollywood beats.
Day-II
Scientific and Technological Innovations for 21st Century India
The second day of the Think India convention commenced with a very thought-provoking session on scientific and technological innovations for 21st century India led by the former Director of DRDO, Prof. V. K. Atre and Sri Sraddhalu Ranade, a renowned scientist and educationist, session was chaired by Dr Tathagat Avatar Tulsi. While Prof. Atre stressed the need for attitudinal change to leverage the academic strength within the country for advancement in science and technological innovations, Sri Ranade spoke about the genius of the Indian mind which is yet to be harnessed in its completeness. Iconic youngest scientist, Dr. Tathagat Avtar Tulsi gave concluding remarks on the session.
Good Governance
The next session focused on the issues of governance and corruption.  Prof R. Vaidyanathan, Professor of Finance at IIM-Bangalore spelt out various dimensions of corruption and its connection with governance policies. Sri Sunil Ambeker, National Organizing Secretary, ABVP, focused on fundamental reforms in our understanding and approaches to various professions to remedy the evil of corruption and the need to take the discussion beyond Lokpal Bill.
Sustainable Development
Issues related to sustainable development were discussed in the third session of the day led by Sri Y. B. Ramkrsishna, Chairman, Bio-fuel Task Force, GoK, who spoke on harnessing alternative sources of energy and Prof. L. S. Ganesh, Professor, IIT – Chennai called for revisiting the idea of development by redefining our lifestyles. 
Panel Discussion of Vision of Higher Education – Research, Innovation and Reforms
This was followed by an interactive session with Prof. R. Venkata Rao, Vice Chancellor, National Law School of India University, Bangalore, Sri G. Ramesh, Asst. Prof. IIM Bangalore and Prof. Sandeep Sancheti, Director Incharge, NTK Suratkal, on the need to promote quality research and the necessary academic infrastructure in national and premier institutes of the country and to frame national policies in the areas of science and technology.
Discussions on Future Action of Think India
Before the Valedictory, the delegates discussed and shared in smaller groups the ways and possibilities of taking forward the agenda of Think India in their respective spaces and their roles in transforming the vision of Vibrant India into a reality.
Valedictory
The two-day event Think India, a convention of the students of national and premier institutions of the country, came to a graceful end with the valedictory presided over by Prof. Varadaraj Bapat, Faculty, IIT Bombay and Sri Sunil Ambekar, National Organizing Secretary,  ABVP. Sri Ashish Chauhan, Convener, Think India welcomed all the delegates and Sri Sreevalsa, Chairman, Student Council, IISc, proposed the vote of thanks. Everyone resonated with the message that was loud and clear that the best brains of the country ought to not only think about India but to act for a developed and vibrant India. Cash prizes upto Rs TWO LAKHS were distributed to the winners of various competitions including essay writing, short film, photography, idea impact and paper and poster presentations.
New Advisory Committee and Student Committee for 2012-13 were announced by Shri Sunil Ambekar.
With Vote of Thanks by Shri Sreevatsa Kolathayar, Conference concluded with National Song.