'Time of India spreading lies and canards'; RSS Prachar Pramukh Dr Vaidya clarifies on TOI report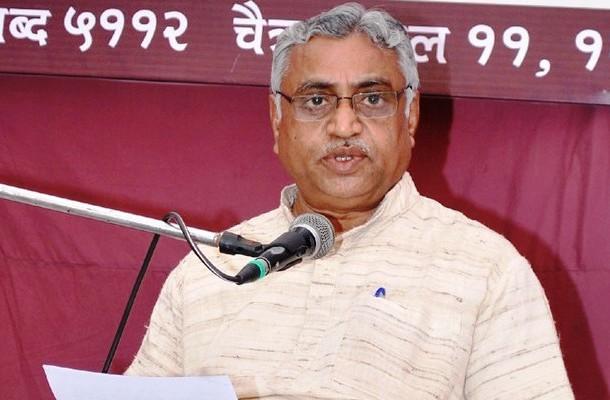 TOI spreading lies and canards, says Dr Manmohan Vaidya.
New Delhi/Bangalore April 06, 2013: It was one more attempt to spread a false news and
a deliberately misleading fabrication on RSS policies by a national media, this time it is Times of India (TOI).
TOI carried a report entitled 'Editors of two RSS weeklies lose jobs over pro-Modi stand' today in its web edition, which reported RSS's policy on few managerial issues related to its publications   namely Organiser and Panchajanya.
Speaking to Vishwa Samvada Kendra -Karnataka: on the news published in TOI on 6 April about  change of editors in Panchajanya and Organiser RSS Akhil Bharatiy Prachar Pramukh Dr. Manmohan Vaidya said that 'TOI is spreading lies and canards'.
Dr Manmohan Vaidya further said that the mention of 'Sadhana;, a prestigious Gujarati weekly   published from Ahmedabad is run by Bharat Prakashan Ltd shows that TOI report is based on lies. Sadhana weekly, run by an independent trust registered in Gujarat, has nothing to do with Bharat Prakashan Ltd which runs Panchjanya and Organiser.
Secondly, Dr. Vaidya said that  to his knowledge nobody in Bharat Prakashan Ltd or in RSS think that both the editors who were relieved recently have taken pro-Modi or anti Gadkari stand while reporting or commenting on the developments  in BJP. According to him both the editors used their office and independence very judiciously while reporting and commenting on these events.
"The only truth in the report is that both the editors have recently been relived from their respective posts separately the reason  only the Bharat Prakashan Ltd knows or can explain" , said Dr Vaidya.
——————
What TOI published?: 
Editors of two RSS weeklies lose jobs over pro-Modi stand.
NEW DELHI: Toeing an independent line onNitin Gadkari issue and extending a premature welcome to Gujarat CM Narendra Modi has taken a toll on editors of two of Rashtriya Swayamsevak Sangh's (RSS) flagship publications Panchjanya(Hindi) and Organiser (English).
Panchjanya editor Baldev Sharma was replaced by Hitesh Shankar, a relatively young reporter, in February and Organiser editor R Balashankar had to put in his papers last week. Balashankar is likely to be replaced by Vijay Kumar, prant karyavah (state secretary) of RSS in Delhi and managing director of Bharat Prakashan, which brings out the two weeklies.
R Balashankar confirmed to the TOI that Vijay Kumar is likely to replace him. Balashankar said Kumar has no journalistic background. "Kumar was a bank clerk who had to quit after allegations were made against him. He was part of the management of Bharat Prakashan that brings out Panchjanya, Organiser and Sadhna in Gujarati," he said. Balakrishnan also says traditionally the job of editor of two journals went to people who were influenced by the RSS but also had journalistic training. "The job always went to a professional," Balakrishnan said.
In the past, the two weeklies had such Sangh stalwarts like Bhanu Pratap Shukla, Atal Bihari Vajpayee, K R Malkani, L K Advani and Deen Dayal Upadhyay as editors. "Editors of the two weeklies had high political profile. They had the last word on important issues," a senior editorial staff of Organiser said.
The trigger for removal of two editors was the stand Organiser and Panchjanya took on allegations of corruption against former BJP chief Nitin Gadkari. "The two journals did not write anything in support or against Gadkari. This became inconvenient for the RSS that had made a serious compromise in Gadkari's case," a senior Organiser staff said.
The second flashpoint between the editors and RSS was on Gujarat CM Narendra Modi. "Organiser and Panchjanya were supportive of Modi even when RSS leadership seemed to be wary of the Gujarat CM. However, Sadhana was opposed to Modi. Manmohan Vaidya, who is in-charge of all the three publications, was at the forefront to undermine Modi. Replacing the editors with lightweights and managers is part of the plan," Organiser staff said. It is also interesting that the RSS itself has changed its stance on Modi and is openly supportive of him. RSS spokesperson Ram Madhav refused to comment on the editorial changes. "Bharat Prakashan is an autonomous organization. I have nothing to comment," he said.
http://timesofindia.indiatimes.com/india/Editors-of-two-RSS-weeklies-lose-jobs-over-pro-Modi-stand/articleshow/19409786.cms