by Nitish Kapoor, www.pardaphash.com
New Delhi: Former Prime Minister and one of the most popular and charismatic political leader Atal Bihari Vajpayee  celebrated his 87th birthday on December 25.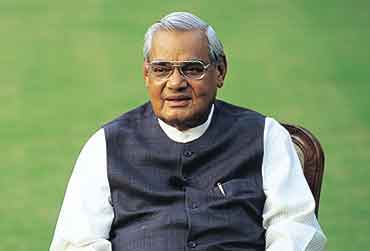 Son of Krishna Bihari Vajpayee and Krishna Devi, the veteran leader was born on December 25, 1924 in Shinde Ki Chhavani, a town in Gwalior district of Madhya Pradesh.
Vajpayee did his schooling and Graduation with distinctions from Gwalior. But he received a Degree of Post Graduation (M.A) from a college of Kanpur.
Later he joined Rashtriya Swayamsevak Sangh and served the Rsahtradharma, Veer Arjun and Panchjanya newspapers as a journalist and also a poet.
In 1942, Atal came into the political limelight, when he was detained during the Quit India civil disobedience movement. After this incident he became very close to Syama Prasad Mukherjee, leader of Bharatiya Jana Sangh. Vajpayee also supported Mukherjee in his protest against perceived inferior treatment of non-kashmiri Indian visitors in Kashmir.
Vajpayee is popularly known for his orator skill. It is said that Jawahar Lal Nehru has once predicted that Atal would someday become prime minister of India. He was very much impressed by him.


He also became the first person to deliver speech to the United Nations General Assembly in Hindi in 1977, when he was External Affair Minister under the Janata government.
The Janata Party dissolved, soon after Morarji Desai resigned from as Prime Minister in the 1979. To form the Bharatiya Janat Party (BJP), Atal Bihari joined various BJS and Rashtriya Swayamsevak Sang (RSS) colleagues, mainly his long-term friend L K Advani and Bhairon Singh Shekhawat.
After formation of BJP, Atal was made its president. He then along with his party strongly protested against the violence towards Sikhs in Delhi that took place in 1984.
During the Vajpayee's governance, India conducted five underground nuclear tests. In spite of the intense international criticism and the steady decline in foreign investment and trade, the nuclear tests popularized domestically, increasing the then prime minister's reputation.
Vajpayee introduced many important economic and infrastructural reforms domestically including, encouraging the private sector and foreign investments.
The former prime minister also tried to improve the Indo-Pak relations by inaugurating the Delhi-Lahore bus service in 1999. He tried his best to resolve the conflict between the two countries.
He underwent a knee replacement surgery in 2001 in Mumbai and his health weakened with time.
In 2005 due to his bad health the veteran leader announced his retirement saying that he will not participate in the next general election. He gave the charge of the party to Advani and Pramod Mahajan.
He was honored with several awards like Pdama Vibhushan, Lok Manya Tilak and Best Parliamentarian Award.
Besides being a successful politician, Vajpayee is a very good poet also. Kya Khoya Kya Paya, Nayi Disha and Samvedna are some of the most popular poems of Vajpayee.
Atal Bihari remained unmarried and become the first bachelor prime minister of India.
http://www.pardaphash.com/news/a-note-on-atal-bihari-vajpayees-life-on-his-88th-birthday/685818.html