Bangalore:  A commemorative program in remembrance of Vishal, the slain ABVP leader was conducted in Bangalore by former co-workers at Bharat Mata Ashram Bangalore. A special prayer and havan was organized for Vishal, for his blessed soul to attain the loftiest levels of liberation. Gracing the occasion was the blessed presence of the seer Swami Sri Sri Ganesh Swaroopanand Giri, former RSS Pracharak and disciple of Paramananda Giri Maharaj of Adishankara Matt Srirangapatanam.  Bharat Mata Ashram spiritual head Sadhu Prof. V. Rangarajan guided the havan, which was made divine with the chanting of 108 Maha mrithyunjaya manthra. Swami Sri Sri Ganesh Swaroopanand Giri delivered a tributary speech to the audience.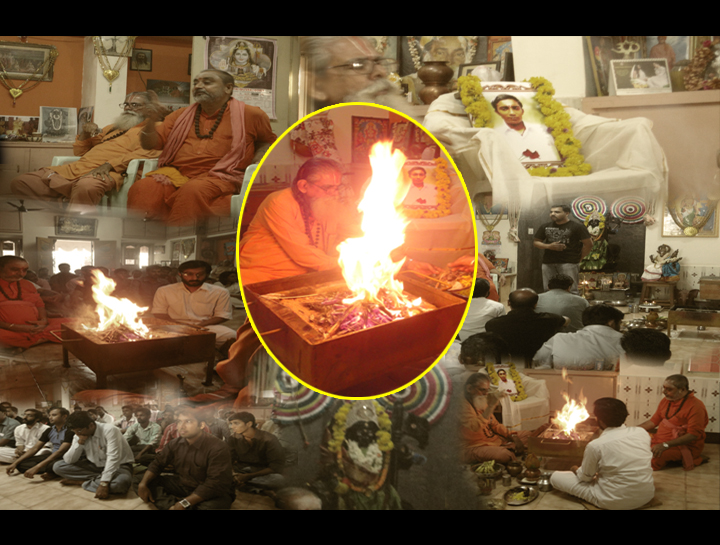 Vishal was a hapless victim of ruthless campus politics. A human, a son, a brilliant student who wanted to soar high like Swami Vivekananda
and Bhagat Singh, towards the cause of the nation will be remembered amidst the deepest and profound thoughts. Vishal's dedication to the nation is obvious when one glance through his life. His schooling was done abroad, but this dedicated son of the soil wanted to further his studies in India, with the sole aim of serving the nation. Thereafter he joined Rashtriya Swayamsevak Sangh and was holding the responsibility of ABVP Chengannur Nagar Pramukh .
Like any valiant hero of the nation, Vishal's fight was tireless, which attracted the anti-national's attention towards him.  Not only was his end brutal, it was absolutely treacherous too, with Campus Front activists stabbing him from the back. He was brutally stabbed in an altercation while welcoming new students at Chengannur Christian College entrance. Campus Front as per statement of Kerala government has terror links and connection with banned outfit, SIMI.