Shri Alok Kumar demands suspension of the two ministers and action against others attacking Sanatan
Chennai. September 27, 2023. Vishwa Hindu Parishad, delegation headed by Akhil Bhartiya Sant Samiti General Secretary Dandi Swami Jeetendrananda Saraswati, Swami Chaitanyananda Swami Madurananda of Vellimalai Ashram, Sr. Advocate and VHP Central Working President Alok kumar, VHP-North Tamilnadu President Dr. P Chockalingam, Sr. Advocate and Central Co-Convenor of VHP Legal Cell Su. Srinivasan have submitted a memorandum to The Honorable Governor of Tamilnadu R.N Ravi about the recent attacks on Santhana Dharma.
The delegation in its memorandum stated that it is a matter of grave concern that a conference was organized in Chennai on the subject of 'Sanatan Abolition Conclave'. The Conclave was attended by Mr Udhayanidhi Stalin, a minister in Tamil Nadu Cabinet. The fact that he is the son of the Chief Minister of Tamil Nadu adds to the gravity of the situation.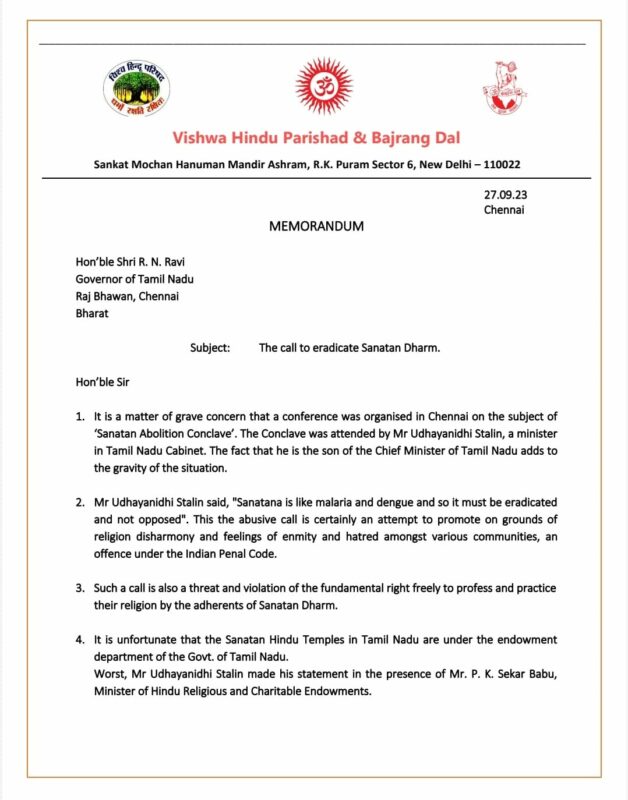 The delegation requested the Honorable Governor, to impress upon the State Government of Tamilnadu to reign in the anti-national elements that are spreading hatred in the society by targeting Sanatana Dharma with false notions on daily basis and severely hurting the sentiments of millions and millions of followers of Sanatana Dharma. These comments have been unleashed by the ministers and members of the parliament of the DMK party and its alliance partners including Congress party.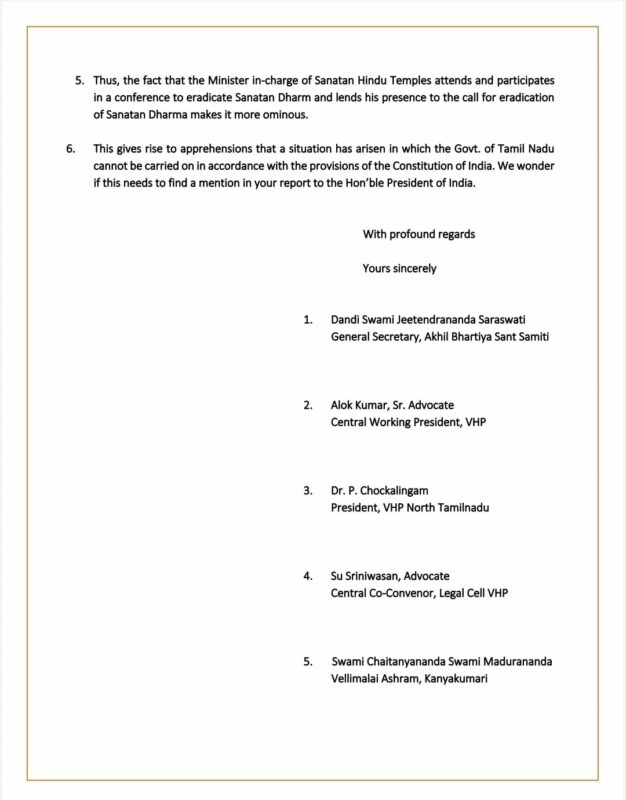 Shri Alok Kumar stated the fact that the Minister in-charge of HR&CE attends this conference to eradicate Sanatan Dharm and lends his presence to the call for eradication of Sanatan Dharma makes it more ominous. This gives rise to apprehensions that a situation has arisen in which the Govt. of Tamil Nadu cannot be carried on in accordance with the provisions of the Constitution of India and requested The Honorable Governor to include them as notes in his report to the Hon'ble President of India and requesting the Honorable Governor to remove the Minsters from the Council of Ministers as they violated their oath.