Worlwide; RSS remembers its founder Dr Keshava Baliram Hedgewar on his 124th Birth anniversary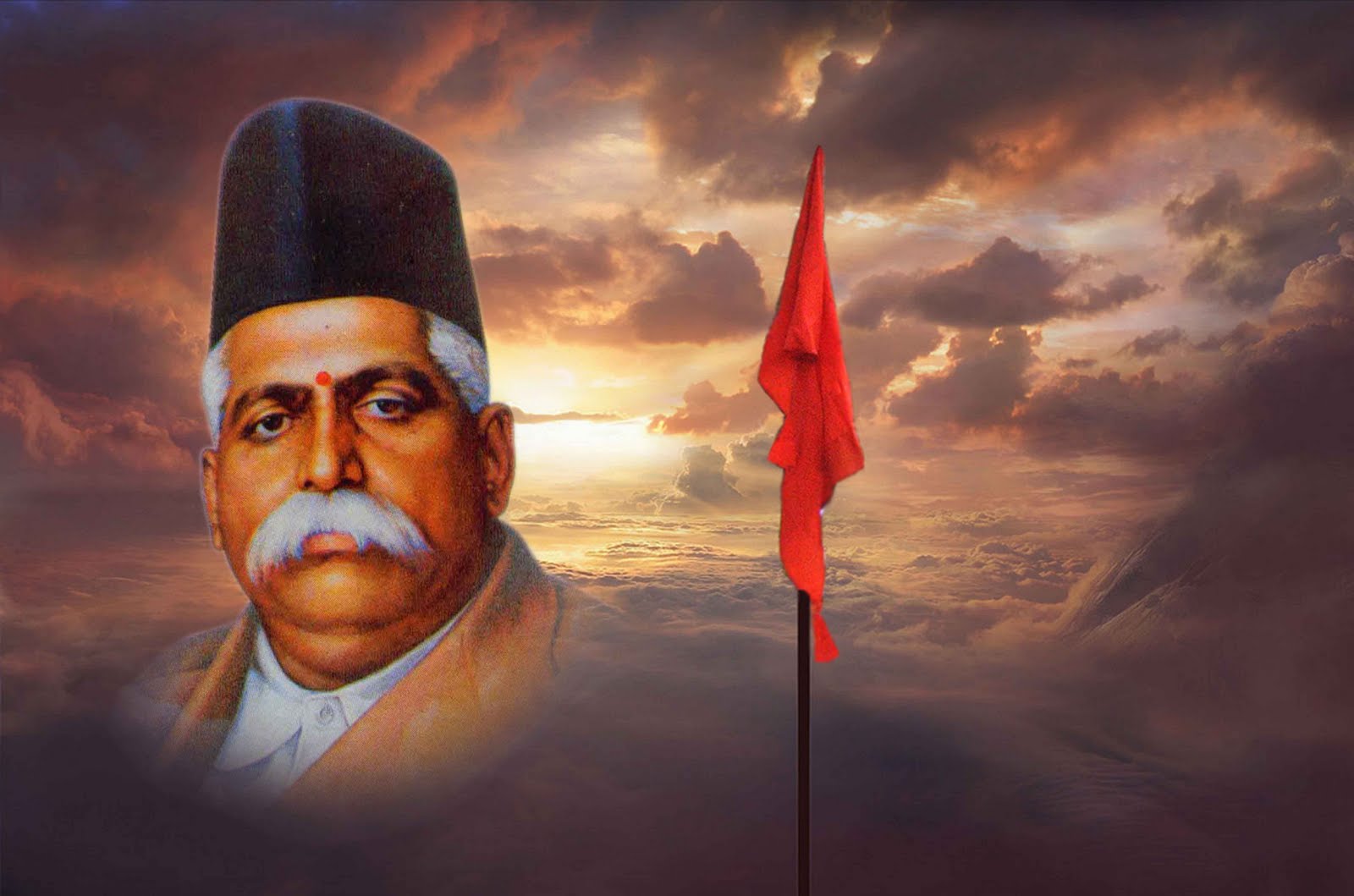 Nagpur/Bangalore, Yugadi Day, April 11-2013: RSS across the nation and abroad remembering its founder Dr Keshava Baliram Hedgewar on his 124th Birth anniversary. RSS Swayamsevaks to offer "Adya Sarasanghachalak Pranam" in RSS Shakha programmes, worldwide.
,On Thursady, at Hubli, RSS Sarakaryavah Suresh Bhaiyyaji Joshi and at Bangalore RSS Sah-sarakaryavak KC Kannan addressed RSS Yugadi Utsav, remembered Dr Keshav Baliram Hedgewar's contribution for the society.
About Dr Hedgewar:
Dr Keshav Baliram Hedgewar (April 1, 1889 – June 21, 1940) was the founder and the first Sarsanghachalak of theRashtriya Swayamsevak Sangh (RSS). Hedgewar found the RSS in Nagpur, Maharashtra in 1925, with the intention of promoting the concept of Hindu nation. He drew upon influences from social and spiritual Hindu reformers such as Swami Vivekananda, Vinayak Damodar Savarkar and Aurobindo to develop the core philosophy of the RSS.
Dr. Hedgewar was born on April 1, 1889 in Nagpur. He was born on the auspicious day of Gudi Padwa, which is the Hindu New Year's Day. He hailed from a family of Brahmins. His forefathers had migrated from Kandkurti in Bodhan taluka of Nizamabad near the border of Maharashtra and Andhra Pradesh where three rivers of Central India namely the Godavari, Vanjara and Haridra meet. They had migrated to Nagpur in the early nineteenth century to escape Muslim persecution at Kandkurti. His parents were Baliram pant Hedgewar and Revatibai. His father was an orthodox priest and the family lived in dire poverty.
When Keshav was thirteen years old, both his parents succumbed to the epidemic of plague. He had to suffer great hardships on account of being orphaned but never did he seek any help from others as he had a lot of self-respect. Often even when he was hungry, he would not approach his friends for food. Despite travails, his attention to his studies was never affected. His elder brothers Mahadev pant and Sitaram pant ensured that he was provided with good education.
When he was studying in Neel City High School in Nagpur, he was rusticated for singing "Vande Mataram" in violation of the circular issued by the then British government. As a result he had to pursue his high school studies at the Rashtriya Vidyalaya in Yavatmal and later in Pune. After matriculating, he was sent to Kolkata by Dr. B. S. Moonje, (National President of Hindu Mahasabha) in 1910 to pursue his medical studies. After passing the L.M.&S. Examination from the National Medical College in June 1914, he completed one year apprenticeship and returned to Nagpur in 1915 as a doctor.
A born patriot, he had angrily thrown away the sweet distributed in honour of the diamond jubilee of Queen Victoria's coronation while in school. In Kolkata, he is said to have lived with Shyam Sundar Chakravarthy[2] and learned the techniques of fighting from the secret revolutionary organisations like the Anushilan Samiti and Jugantar in Bengal. He joined the Anushilan Samiti and had contact with famous revolutionaries like Ram Prasad Bismil.[3] From the moment he left Nagpur, Keshavrao was constantly shadowed by the Intelligence Agents but he was ever vigilant and avoided any arrest.
When he returned to Nagpur, the financial condition of his family had worsened. Naturally all the people hoped that Dr.Hedgewar would open a dispensary and help his elder brothers. In fact, doctors in general commanded great respect of the people in society in those days and their income also was substantial. But Hedgewar did not intend to set up a medical practice and had made up his mind to become a full-time political activist and work for the cause of the Indian Independence.
Since his arrival in Nagpur, Dr. Hedgewar was busy organizing the revolutionaries in Nagpur, under the guidance of Bhaoji Karve. When the First World War broke out, the revolutionaries all over the country and abroad wanted to make use of the opportunity created by the difficult and conceived a plan for a revolutionary upsurge in the country. Hedgewar plunged himself wholeheartedly in this endeavour and was involved in various revolutionary activities. However, the defeat of Germany in the War foiled all the attempts of the Indian revolutionaries for a revolutionary upsurge inside the country.
Hedgewar came to believe that although the revolutionaries had immense determination, in a country of continental proportions it was impossible to instigate an armed insurrection. He also came to understand that mere acts of bravery and self-sacrifice on the part of a few daring and patriotic individuals will not bring independence to the country. With this clear realization, he diverted his attention to the national movement launched by the Indian National Congress.
In Nagpur, Hedgewar became involved with social work and also with the Bal Gangadhar Tilak faction of the Congress Party, through which he developed a close association with Dr. Moonje who later became his mentor of Hindu Nationalism. He also worked with Hindu Mahasabha leaders.
In the 1920 session of Indian National Congress held in Nagpur, Dr.Hedgewar was appointed as the Deputy Chief of volunteers cadre overseeing the whole function. This volunteer organisation was named as Bharat Swayamsewak Mandal and was headed by Dr. Laxman V. Paranjape (Dr. Hedgewar as his Deputy).[4] He and his colleagues unsuccessfully campaigned for the passage of a resolution declaring 'Poorna Swaraj (complete self-rule) as the goal of the Congress.
He participated actively in the Non-cooperation movement in 1920 and undertook a brisk tour in village after village in the Central Provinces for mass awakening. He was promptly jailed and sentenced to one year rigorous imprisonment. During this time, he was also a member of the Hindustan Republican Association.
After his release in 1922, he became disgusted with what he believed was the appeasement of Muslims by the Congress during the Khilafat movement. He believed that this would result in Muslim communalism and though intended to win them over to the freedom struggle, could in the long run sow the seeds of separation. He believed that Hindus were the sons of the soil of India and were the primary community of India, and that the existence and future of the country was dependant on the existence and future of the Hindus.
When the trial of Kakori conspiracy was proceeding in Lucknow the British Government employed mostly Muslim Police Officers and the Special Magistrates[5] who left no stone unturned to get the revolutionaries hanged to death or face rigorous imprisonments. Moreover the Hindu society did not dare to retaliate during the proceedings of the court as Pandit Ram Prasad Bismil has clearly mentioned in his autobiography. Pt Banarsi Das Chaturvedi – the editor of Kakori Ke Shaheed had also condemned it very strongly.[6]
Thus, Dr.Hedgewar came to the conclusion that all the problems he felt the Hindu community in India faced—subjugation and oppression by 'foreigners' in the present and past, provincialism, and untouchability – were a result of an inherent flaw in the Hindu character rather than problems themselves.
He felt that the remedy was a cultural organisation that would unite Hindus on a common platform and instill among them discipline and national character. In this endeavour, he was blessed byVinayak Damodar Savarkar, who was then under house imprisonment in Ratnagiri. The senior Hindu Mahasabha leaders of Nagpur, Dr B. S. Moonje and Dr. L. V. Paranjpe actively supported Hedgewar in starting such an organisation.
Inception of RSS:
With the intention of uniting Hindus and to awaken the spirit of patriotism, discipline and bravery in them, Dr.Hedgewar founded the Hindu Yuva Club, which later named Rashtriya Swayamsevak Sangh in 1925, on the auspicious day of Vijayadashami.[8] on 28th Sep, 1925. The founder members were Dr. B.S. Moonje, Bapuji Soni, Gatate Ji. Dr Paranjape alongwith Hedgewar. Hedgewar became involved with social work and also with Tilak faction of the Congress Party, through which he developed a close association with Dr Moonje who later became his Mentor of Hindu Philosophy. In the 1920 session of Indian National Congress was held in Nagpur, Dr Hedgewar was appointed as the Deputy Chief of volunteers cader overseeing the whole function. This volunteer organisation was named as Bharat Swayamsewak Mandal which was headed by Dr. Laxman V. Paranjape (Dr. Hedgewar as his Deputy). All volunteers were told to wear Military type uniform (to be made at their own expense) which was later on adopted as RSS's official uniform from 1925 to 1940. This could be called as the real beginning of RSS because Dr L. V. Paranjpe had declared the intention of starting such an organisation in future. Dr B. S. Moonje and Dr. L. V. Paranjpe funded and actively supported Hedgewar to start RSS as the Top Senior Hindu Mahasabha Leaders of Nagpur region.
He evolved a unique technique which was simple and inexpensive. He selected a group of young boys who would assemble in an open field every day for one hour. During that time, in addition to playing national games, he began to inculcate in them a sense of patriotism, unity, discipline and selflessness, by singing of patriotic songs and narration of stories of patriots. He appealed to the youth to spare one hour a day for the Nation by attending the Shakha. He visualised that the one hour participation in the Shakha would ultimately transform the youth to devote greater time and energy in the service of the nation.
Dr. Hedgewar was a good organizer and traveled extensively throughout the country, recruiting and developing good swayamsevaks. He advised and encouraged swayamsevaks to undertake higher education and for that purpose to go to different places in the country. He said higher educational attainment by Karyakartas would confer better suitability and capacities to spread the work of the RSS and going to different places was necessary to spread the work of RSS throughout the country.
His initial followers included Appaji Joshi, Bhaiyyaji Dani, Moreshwar Munje, Babasaheb Apte, Gopalrao Yerkuntwar, Dadarao Paramarth, Balasaheb Deoras, Yadavrao Joshi, Bhaurao Deoras, K.D.Joshi, Raja Bhau Paturkar, Bapu rao Bhishikar, Abaji Hedgewar, Madhukar rao Bhagwat, Vitthal Rao Patki, Bapu Rao Diwakar and K.S.Patait.
The Sangh was growing in Nagpur and the surrounding districts. It soon began to spread to other provinces too. Hedgewar went to a number of places and inspired the youths for taking up the Sangh work. Gradually all his associates had begun to endearingly call him as 'Doctorji.' Upon his urging, Swayamsevaks went to far-off cities like Kashi, Lucknow etc., for their further education and started the Shakhas there too. National leaders such as Mahatma Gandhi and Madan Mohan Malaviya also visited RSS shakas.
In April 1930, Mahatma Gandhi gave a call far 'Satyagraha' against the British Government. Hedgewar participated in the famous 'Jungle Satyagraha' along with others. They were promptly arrested and sentenced to nine months' imprisonment and sent to Akola jail.
Hedgewar elected as
National Vice President of Akhil Bharat Hindu Mahasabha in 1937 & 1939. Hedgewar was a great admirer of Veer Savarkar and Dr. B.S.Moonje, both helped Hedgewar to establish RSS nationwide.
Opposition to RSS had grown almost in proportion to its spread. The Government of Central Provinces promulgated an order banning the participation of the Government servants in RSS programs. Under such trying circumstances, Hedgewar went on cogently putting forth the policy of the RSS before all: "Sangh is away from politics. Our organization is not against anybody. Without animosity to any one, the Sangh is striving to make the Hindu society strong and efficient."
Death and Legacy:
Continuous and strenuous spate of activities took a toll on his health. His health went on deteriorating. Often he suffered from chronic back pain. He started delegating his responsibilities to M.S.Golwalkar, who later succeeded him as Sarsanghachalak (Supreme head) of RSS. In January 1940, he was taken to Rajgir in Bihar for the hot-spring treatment.
He attended the annual Sangh shiksha varg in 1940, where he gave his last message to Swayamsevaks, saying: "Today, I am seeing a mini-Bharat before me. Let there be no occasion in the lives of any of you to say that you were once a Sangh Swayamsevak some years ago."
Dr.Hedgewar died on the morning of June 21, 1940 in Nagpur. His last rites were performed in the locality of Resham Bagh in Nagpur.
Dr.Hedgewar instilled a work culture in the RSS, like the devotion to the Bhagva (saffron) flag, priority to ideologies over individuals, communal decision making process, full-time dedicated volunteers, daily Shakha (gathering every day by members of all ages for games and singing nationalistic songs) and doing away with the custom of personality following. His foresight and capability is established by the fact that the RSS is today one of the worlds largest socio-political organisation. Even today, Dr.Hedgewar is a much revered figure in the Hindu nationalist movement of India.