RSS Press Release; Condemns Home Secretary statements, claims it as 'Misleading' & 'Politically Motivated'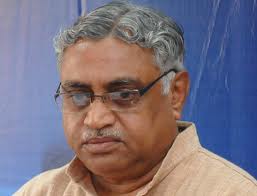 THE STATEMENT ISSUED BY ALL INDIA PRACHAR PRAMUKH OF RSS
Panvel, Mumbai- 25 January, 2013
The statement issued by the Union Home Secretary Shri R.K.Singh in support of a political speech of Union Home Minister Shri Susheel Kumar Shinde had contained several utterances about the RSS that were misleading, malafide and politically motivated. The RSS takes strong exception to that statement and condemns it in no uncertain terms.
The Union Home Secretary had disclosed the names of those ten people against whom certain allegations of involvement in terror incidences were made and the investigations are still underway. The matter is subjudice. It must be recalled that a different set of people belonging to the minority community were arrested earlier in the same cases, and the investigating agencies have filed the charge sheets after due investigations. Suddenly the investigations were given a new twist and another set of individuals were held to be responsible for same incidents. Those individuals, against whom the agencies seemed to have no sufficient evidence also, are sought to be linked to the RSS in a deplorable attempt to tarnish the image of the organization.
The RSS strongly condemns the act of Union Home Secretary in joining these forces to defame the RSS. We accuse him of uncalled for interference in the matter with view to influence the investigations. Through his defamatory statement against the RSS, the Union Home Secretary had become a part of the political conspiracy of the Congress. We strongly condemn his action.
-Dr Manmohan Vaidya, RSS Akhil Bharatiya Prachar Pramukh.