Uttarakhand Calamity: Thousands of devotees affected; RSS, VHP keen on rescue/relief works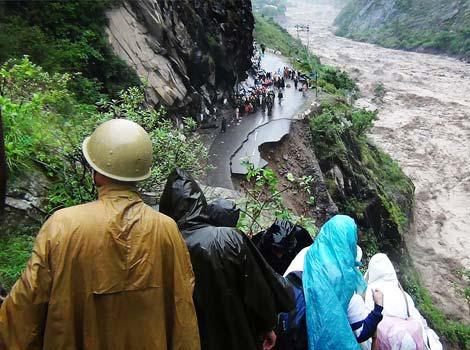 Kedarnath temple, Gouri Kund, Gopeshwar & part of Uttarakhand damaged, Thousands of people dead / Missing;
VHP & Hindu Help Line trying to Help
New Delhi, June 18, 2013: In the worst ever natural calamity that struck Uttarakhand, 4 Dhaam Yaatra area, Rudra Prayag, Gupt Prayag, Uttar Kashi & surrounding areas, thousands of people have been washed away. Many dead bodies are still in the vicinity of Kedarnath temple. Roads are blocked & cracked. Cloud burst, incessant rains & landslides have created big havoc. Gouri Kund is washed away. Many hotels in the area along with people in them are missing. 4,500 mules (khacchhar) serve devotees. Each mule has one attendee. None of them are found. Markets are washed out with people. The number of the dead & missing may cross thousands as 4 Dhaam yaatra was on.
Volunteers of Rashtreeya Swayamsevak Sangh (RSS), Vishwa Hindu Parishad (VHP) and other organisations immediately indulged in rescue operation and needed quick relief works at Uttarakhand. VHP's Hindu Help Line is actively working helping thousands of people.
While expressing shock & sorrow, VHP International Working President Dr Pravin Togadia said, "VHP expresses sympathy toward relatives of those who are no more. Those who are injured & are taking treatment are being helped by local VHP & Hindu Help Line workers. Soon to help relatives & the affected, VHP & Hindu Help Line will send the teams from neighboring states so transportation; treatments will be taken care of. Since the calamity is beyond normal human comprehension, all should work together to help the army & ITBP who are putting own lives at risk in rescue & relief operations. We had noticed & raised an opposition to a lot of tree burning, breaking of mountain ranges with dynamites for power projects etc. All this has contributed to the damage caused by rains."
VHP has appealed to put the affected devotees' care as the only goal at this time of tragedy & not get into political blame game. All should come together to help.