50 Photos of Indian Army Rescue Operation at Kedarnath, Uttarakhand; RSS also Joins the process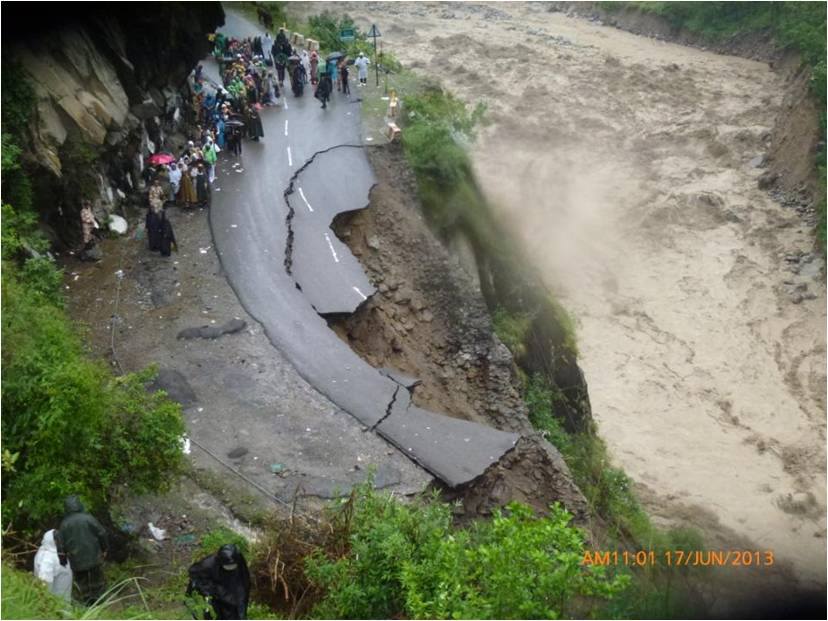 Uttarakhand June 19, 2013: Here are 50 selected Photos depicts brave rescue and relief operations by Indian Army soldiers at Flood affected areas in cluding Kedarnath Shrine of Uttharakhand. Rashtreeya Swayamsevak Sangh (RSS) Swayamsevaks also  helped greatly in rescue operation.  Army and RSS Swayamsevaks reached for the rescue of More than 70,000 affected due to unprecedented flood in Devbhoomi.
More than 5000 Army men fanned out across the districts of Chamoli, Rudraprayag, Uttarkashi and Pithoragarh districts in Uttarakhand and Saharanpur, Bijnor, Muzaffarnagar and Pilibhit districts of Uttar Pradesh in order to rescue and provide relief to stranded civil population affected by unprecedented floods.
Army assistance Centres at Harsil, Rudraprayag, Joshimath, Mana, Gagriya, Govindghat and Dharchula have been providing shelter, food, first aid and fresh water to hundreds of pilgrims stranded at various locations due to torrential rain and swollen rivers. Eight quick reaction medical teams established medical aid posts at a number of locations and four ambulance vehicles have been deployed to evacuate injured people.
In Uttarakhand, Army is undertaking rescue and relief operations in four sectors Harsil, Kedarnath, Joshimath and Dharchula. Army column evacuated 600 people across a rivulet by laying a temporary bridge of wooden logs. All the people have now been brought to safety. Two officers and 24 soldiers have been inducted by helicopter this morning into Sirsi near Gauri Kund, 17 km short of Kedarnath. Evacuation of pilgrims by foot is presently under way.
In Joshimath sector, NH-58 has been washed away at Govindghat. More than 2000 have been evacuated on foot and are now housed in Joshimath. 1100 are in Army shelters. Efforts are underway to lay cable bridge across Alaknanda to evacuate stranded Hemkund Sahib pilgrims. More than 450 were evacuated yesterday. Hundreds of people have been evacuated from low lying areas of Dharchula and adjoining areas flooded by swollen Kali River.
Army colums are presently in the process of evacuating marooned villagers at Rawli 8 km west of Bijnor. One Army relief column is now evacuating stranded people from Shamili and Daulatpur areas of Saharanpur district.
Two Army columns and border roads personnel have now cleared the road upto 30 kms South of Dharasu on Rishikesh – Uttarkashi road. 200 people of Tharali village 5 kms North of Harsil have been evacuated and brought to safety this morning.
Army has launched a coordinated effort to first ensure safety of people and assist local administration in creating capability to sustain efforts in helping the people. Humanitarian assistance in terms of food, shelter, warm clothing and medical aid has been provided across the regions. Surya Medical Emergency Helpline was of immense help to stranded pilgrims as more than 500 calls have been received so far in the last 24 hours. Indian Army will continue to serve the people wherever they are.
Two Army columns have rescued 103 civilians including 37 children from villages Lapra, Udhri, Kalanaur, Jathlana and Gumthala near Yamunanagar.
As of now the rescue operations are in progress in village Lal Chhappar, Yamunanagar where reportedly 50 people are stranded. First lot of BAUTS (Boat Assault Universal Type) have already been launched to evacuate the marooned people. Five Columns are on standby at AMBALA for relief operations and to meet any emergencies.
As large parts of the nation reel under incessant rains & floods, leading to breakdown of communications, the Army has assumed the lead role in disaster management efforts. Over 5000 personnel of the Army are presently deployed in various areas of Uttarakhand, Uttar Pradesh and Haryana, rendering invaluable aid to distraught people reeling under the fury of nature.GOVINDGHAT, UTTARAKHAND
An Army column on Hemkund Sahib route has evacuated more than 4000 pilgrims across the broken bridge at Govindghat and constructed a foot track for their safe passage. Approximately 1800 pilgrims have further been moved from Govindghat to Joshimath. In addition medical facilities, refreshments and lodging facilities have been extended to over 1300 persons at Joshimath. Over 200 sets of blankets, sleeping bags, combat jackets and balaclavas have been provided to the evacuated pilgrims.JOSHIMATH, UTTARAKHAND
Another Army column has been employed for clearing a major landslide near Patal Ganga, in order to restore connectivity.RUDRAPRAYAG, UTTARAKHAND
Due to road from Rudraprayag to Badasu getting blocked at Silchatti and Kund Chatti and the bridge at Rudraprayag being flooded, Badasu has been virtually cut off. One Army column has been inducted to Badasu, by helicopter at 0730 hours, on 18 Jun 13 and is presently undertaking relief and rescue work.ROAD NARENDRANAGAR – DHARASU
The road is blocked at 10 locations due to landslides and washing away of bridges and culverts. An Army column has been deployed along the road for rescue and relief work.

HARSIL, UTTARAKHAND. An Army column at Harsil constructed a log bridge near Harsil and evacuated 600 pilgrims. In addition, the column opened a medical relief camp at Harsil for stranded civilians and is providing food, water and shelter. Further, a foot track has been constructed and help provided for evacuation of 100 pilgrims stranded on Harsil-Gangotri axis.

ROORKEE, UTTARAKHAND
An Army column has been deployed at village Raigarhi on Moradabad-Haridwar road to evacuate stranded civilians.

MANA, UTTARAKHAND
An Army column is currently assisting civilians stranded between Badrinath and Mana, and providing them with medical aid, food and refreshments.

YAMUNA NAGAR, HARYANA
Two Army columns have been working around the clock and have so far rescued 103 persons including 37 children from villages Lapra, Udhri, Kalanaur, Jathlana and Gumthala near Yamunanagar.

SAHARANPUR, UP
One Army column undertook relief work and evacuation of civilians from affected areas around Saharanpur city. The column is now moving to Shamli for evacuating a marooned family.

BIJNOR, UP
One Army column has been deployed at Village Rawali, near Bijnor, to evacuate 150 stranded civilians. Efforts to reach the stranded persons are in progress.

The Army is making all efforts to provide relief and succour to maximum people affected by the disaster. In addition, a number of columns have been kept stand-by at various locations by the Army authorities.
RSS Appeal: RSS initiated 'Uttaranchal Daivee Aapada Peedith Sahayata Samiti' calls for nationwide help.